Dear Preachers:
Jesus' authority has been challenged in the temple area by the chief priests and elders. They have confronted him on his preachings and actions. He responds with three parables about judgment, today's is the first.
Jesus had just confronted the spiritual leaders on their rejection of John the Baptist (Matthew 21:23-25). Why had they not accepted God at work in John when even tax collectors and sinners did? The latter repented of their sins and accepted John's penitential baptism. Those who had lived a life of "No" to God, had turned their lives around with a "Yes." The "outsiders" had been welcomed by God. Couldn't the religious hierarchy recognize and rejoice over God's mercy and accept Jesus' healing message?
Jesus makes his point, as he frequently does, in a parable; this one about two sons. The sinners and tax collectors would have identified with the second son. Like him they had regretted their rejection of God by their many "No's". After hearing Jesus' preaching, they said "Yes" and changed the direction of their lives. The father does not cast out the first son immediately for his disobedience. Instead he was given time to change and he did. The parable shows that those who initially reject God are offered a similar time of grace.
Sinners who had said "No" to God recognized and welcomed the mercy in both John and Jesus' messages. Haven't you known people who, earlier in their lives, had rejected God, but later turned their lives around and accepted the gospel? Perhaps a crisis brought them to their knees. Or, they became aware of the emptiness in their lives and turned to someone who helped them make new choices. Sometimes people in difficult straits will read a biography of someone like Dorothy Day, Nelson Mandela, Thomas Merton, Rosa Parks etc., people whose heroic lives were strengthened and guided by their faith. Such inspiring stories can stir change in a person's life from a "No" to a "Yes" to God.
The chief priests and elders whom Jesus addressed had assumed their righteousness and thought they had earned a privileged place in God's realm. They assumed God had closed and sealed the door on the sinful tax collectors and prostitutes. But Jesus came with a message of grace and revealed God's "open door policy." Jesus was that open door, welcoming the former "No's" into God's merciful embrace.
We church folk need to check ourselves for a self righteousness similar to the established religious of Jesus' day. How do we judge friends and family who have stopped going to church, or who have adopted a lifestyle contrary to ours? We have to avoid the rush to judgment Jesus found in the chief priests and elders. We in the pews must avoid their self-righteousness, which overlooks the need we all have for God's graceful embrace in everything we do, think and say. (In the April, 2023 edition of America Magazine, Cardinal Robert McElroy, Bishop of San Diego, calls for a more inclusive and welcoming church. That sounds like Jesus' parabolic message to us today.).
The religious leaders were not sincere searchers, not open to Jesus' inclusive message. They wanted things to stay just as they were, with them at the top holding privilege and rank. It's a danger for all of us in church leadership. Jesus wouldn't have it: wouldn't accept their closed minds. The God he came to proclaim had opened the door they wanted shut. They wanted control over those they judged unfit to enter. They surely felt insulted when Jesus told them, "Amen, I say to you, tax collectors and prostitutes are entering the kingdom of God before you."
Notice the present tense. "Amen, I say to you, tax collectors and prostitutes are entering the kingdom of God before you." It is already happening! Where? When? How? Those who are accepting Jesus' message and changing their lives to follow him are entering the Kingdom now! What a reversal of many people's standards for religious behavior; sinners are welcomed into Jesus' kingdom, while the upright and self-assured stand outside in confusion. Shall we join the converted tax collectors and prostitutes, confess our sins and again say "Yes" to Christ and the way of life he has shown us?
Are we like the chief priests and elders in other ways? We know the end of the gospel story. We believe Jesus is the Son of God. They didn't know what we do. To them Jesus was upsetting the balance they tried to maintain with the Romans. They also saw him watering down, or even contradicting, the teachings they thought united the Jews as a believing community.
But, if we were in their shoes would we have acted differently? Do we resist change and want to keep things as they are? It is not about just wanting to maintain religious practices. We have to ask ourselves if are resisting personal changes by being closed to the word God is sending us through: the teachings of the Gospels, our church's guidelines and those who know us well enough to point out our blind spots? Have we been saying "No" to those voices and now need to say "Yes?" Are we listening to God's invitation to us today?
We also ask for forgiveness for those we have disappointed with our empty or half-hearted "Yes's." They put trust in us, perhaps at their most vulnerable times, and we did not follow through and were not there when we promised we would be.
What I find interesting in today's parable is that there is no mention in it of how things turned out. How hard of a worker was the first son when he finally got to the vineyard to work? Did he meet his quota; do what was expected of him? There are no standards of measurements laid out for us in this story. The emphasis is just on someone who changed his mind; who in the end, responded to an invitation. Maybe that is what is pleasing to God, our desire to serve; our attempts to respond, as we leave plenty of room for God to step in and fill in the gaps. The big ones and the small ones.
Click here for a link to this Sunday's readings:
https://bible.usccb.org/bible/readings/100123.cfm
Humbly regard others as more important than yourselves, each looking out not for his own interests, but also for those of others. —Philippians 2: 3-4
Way back in Jesus' era, this letter to the Philippians tells us that Paul is already giving a message that will become the Church's social teaching known as the "common good." Thinking about and acting for the common good is both an attitude and a practical response based on the principle that everyone should look at another person as another self. Solidarity with others at every level is a way of accomplishing this. As another Church social teaching, solidarity takes many forms: "solidarity of the poor among themselves, between rich and poor, of workers among themselves, between employers and employees in a business, solidarity among nations and peoples" (CCC, no. 1941). Solidarity allows us to look out for others' well-being; to consider what is best for the common good, not only our own self-interests.
As Pope Francis states, "The common good. . .is much more than the sum of individual interests. It moves from 'what is best for me' to 'what is best for everyone.' It embraces everything which brings a people together: common purpose, shared values, ideas which help us to look beyond our limited individual horizons" (7/8/15, Meeting-Bolivia).
Fifty-eight years ago, the Second Vatican Council defined the common good as "the sum of those conditions of social life which allow social groups and their individual members relatively thorough and ready access to their own fulfillment." Can you imagine a just world where everyone has what they need to flourish? Where people consider others' needs on a regular basis? Where people worry less about their own nest and more about the larger nest where we all commonly reside?
Pope Francis, in a 2017 Ted Talk, inspires us to realize our own responsibility: "How wonderful would it be if solidarity, this beautiful and at times, inconvenient word, were not simply reduced to social work. . .The future of humankind isn't exclusively in the hands of politicians, of great leaders, of big companies. Yes, they do hold an enormous responsibility. But the future is, most of all, in the hands of those people who recognize the other as a 'you' and themselves as part of an 'us.'"
Our future as a peace-filled, just society depends on our willingness to practice solidarity and look for solutions for the common good.
Barbara Molinari Quinby, MPS, Director
Office of Human Life, Dignity, and Justice Ministries
Holy Name of Jesus Cathedral, Raleigh, NC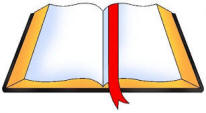 Mini-reflections on the Sunday scripture readings designed for persons on the run. "Faith Book" is also brief enough to be posted in the Sunday parish bulletins people take home.
From today's Gospel reading:
A man had two sons. He came to the first and said, "Son go out and work in the vineyard today." He said in reply, "I will not," but afterwards changed his mind and went. The man came to the other son and gave the same order. He said in reply, "Yes, sir," but did not go.
Which of the two did his father's will?"
They answered, "The first."
Reflection:
Did you notice in today's parable there is no mention of how things turned out when the first son changed his mind and went into the vineyard? How hard of a worker was he when he finally got to the vineyard to work?
Did he do what was expected of him? There are no standards or measurements of success laid out for us in this story. The emphasis is just on someone who changed his mind; who in the end, responded to an invitation.
Maybe that is what is pleasing to God: our desire to serve and our attempts, if at times feeble, to respond –while we leave plenty of room for God to step in and fill in the gaps: The big ones and the small ones.
So we ask ourselves:
Shall we pray today for healing from past hurts caused by those who lied to us or disappointed us?

And shall we ask for the ability to forgive them?
POSTCARDS TO DEATH ROW INMATES
Inmates on death row are the most forgotten people in the prison system. Each week I am posting in this space several inmates' names and locations. I invite you to write a postcard to one or more of them to let them know that: we have not forgotten them; are praying for them and their families; or, whatever personal encouragement you might like to give them. If the inmate responds, you might consider becoming pen pals.
Please write to:
Daniel Garner #0141374 (On death row since 9/3/1993)
Jeffrey N. Duke #0113234 (9/26/2003)
Phillip Wilkinson #0438643 (9/15/1994)
----Central Prison, P.O. 247 Phoenix, MD 21131

Please note: Central Prison is in Raleigh, NC., but for security purposes, mail to inmates is processed through a clearing house at the above address in Maryland.

For more information on the Catholic position on the death penalty go to the Catholic Mobilizing Network:

http://catholicsmobilizing.org/resources/cacp/

On this page you can sign "The National Catholic Pledge to End the Death Penalty." Also, check the interfaith page for People of Faith Against the Death Penalty:

http://www.pfadp.org/

"First Impressions"

is a service to preachers and those wishing to prepare for Sunday worship. It is sponsored by the Dominican Friars. If you would like "First Impressions" sent weekly to a friend, send a note to Fr. John Boll, OP at jboll@opsouth.org.

If you would like to support this ministry, please send tax deductible contributions to Fr. Jude Siciliano, OP:

St. Albert Priory

3150 Vince Hagan Drive

Irving, Texas 75062-4736

Make checks payable to: Dominican Friars.

Or, go to our webpage to make an online donation:

https://www.PreacherExchange.com/donations.htm

ORDERING OUR CDs:

We have compiled Four CDs for sale:
Individual CDs for each Liturgical Year, A, B or C

One combined CD for "Liturgical Years A, B and C.
If you are a preacher, lead a Lectionary-based scripture group, or are a member of a liturgical team, these CDs will be helpful in your preparation process. Individual worshipers report they also use these reflections as they prepare for Sunday liturgy.
You can order the CDs by going to our webpage:
https://www.PreacherExchange.com and clicking on the "First Impressions" CD link on the left.
OTHER PUBLICATIONS BY EMAIL:
1. "HOMILIAS DOMINICALES" ---These Spanish reflections on the Sunday and daily scriptures are written by Dominican sisters and friars. If you or a friend would like to receive these reflections drop a note to "Fr. John J. Boll, OP." <preacherexchange@att.net>
2. "VOLUME 2" is an opportunity for you to hear from the readers of First Impressions. To subscribe or Send your own reflections: Send them to "Fr. John J. Boll, OP." <preacherexchange@att.net > Your contributions to Volume 2 are welcome.
OUR WEBSITE: https://www.preacherexchange.com
Where you will find Preachers Exchange, which includes "First Impressions," "Homilias Dominicales," and "Volume 2" as well as articles, book reviews, daily homilies and other material pertinent to preaching and Scripture reflection.
FOR EMAIL HELP OR TO UNSUBSCRIBE, SUBSCRIBE, OR CHANGE:
Email "Fr. John J. Boll, OP." <preacherexchange@att.net>
---
---