Provisions for the Journey to Bethlehem
Brief reflections on the week's Scripture readings,
preparing us to meet the Christ Child.
For the Second Week of Advent 2021.
---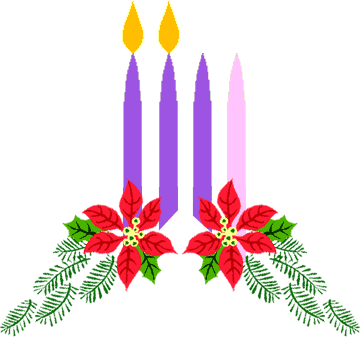 Each week of Advent has a theme:
Week one -- God's people wait in hope and faith.

Week two we focus on words of peace from the Old Testament prophets.

Week three is about love and the words of John, the Baptist.
Week four we celebrate joy with Mary, Mother of God.
But the overriding theme of Advent is waiting and preparing in hope, a grace so essential, so necessary for the whole world right now. Where do you find hope?
---
Sunday, December 5: "Jerusalem, take off your robe of mourning and misery; put on the splendor of glory from God forever…bear on your head the mitre that displays the glory of the eternal name ….you will be named by God forever the peace of justice…" (Bar 5:1-9; Note: Baruch was Jeremiah's faithful secretary; this book is not contained in the Jewish Masoretic text; it is in the Apocrypha in most Protestant Bibles.)
Baruch is speaking of Jerusalem as a mother welcoming her returning children home. But what comes to mind as I read this? When people look at me, do they see "the glory of the eternal name?" Is the splendor of God's glory obvious in how I live? I don't mean this is an egotistical or showy way -- do people see my faith? Do my actions speak of the peace of justice? Too often I hide behind a robe of worldly misery, betraying the Presence within and around me.
Today's Provision—Put on the peace of Christ: Paul instructs us in Romans 13 to "put on Christ." What does that look like at this time in your life? How do you reflect God's love and glory as you go about your day? Is your faith obvious in ways other than a cross around your neck? How do you promote justice? Spend time this week fostering peace and justice, wearing your love for Christ's eternal name…if not on your head, then at least on your sleeve!
Monday, December 6: " Strengthen the hands that are feeble, make firm the knees that are weak; say to those whose hearts are frightened: Be strong, fear not!" (Is 35:1-10)
Many still struggle with slackened, feeble hands of mourning or oppression, tottering knees weakened by loss and uncertainty. And there are those lurking out there who want us to be afraid. Very afraid. Insidious messages of fear can find an easy way into our hearts and souls, especially when we are weak and don't have God as our strong shield. But it does no good to simply preach this to those who are suffering and afraid. Those of us so blessed with strong faith and material resources are called to carry God's shield for those who cannot carry it themselves. How will you bring peace, courage, and comfort to others this Advent?
Today's Provision—" I will hear what God proclaims, for he proclaims peace to his people." (Ps 85)
God proclaims peace, but unfortunately, there are those who claim to speak for God whose messages are anything but peaceful. We need to counter this fear with love. It can be as simple as a smile and gracious welcome to someone whose appearance or language indicates they are immigrants; a wrapped Christmas package of toiletries, socks, and other personal items to give to the poor you encounter. It can be a longer-term commitment to accompany the homeless, the disabled, the lonely, the elderly. It can be actively advocating for just laws and practices. Whatever it is, make it real. Don't stay at arm's length. Instead, be God's strong arm and comforting embrace for another.
Tuesday, December 7: "All flesh is grass, and all their glory like the flower of the field. The grass withers, the flower wilts…Though the grass withers and the flower wilts, the word of our God stands forever." (Is 40:1-11)
I'd guess that probably no one reading this wants to spend much time reflecting on the loss of life we have experienced from the COVID-19 virus, which surpassed 5 million worldwide in November. This number is grossly understated given deaths occurring in areas where statistics are not kept. And that doesn't even take into account deaths due to hunger, climate change, and other diseases. I know I feel it too—"Let's put the bad news behind us and celebrate!"
I read an article several years ago entitled "Beyond Comprehension" about our capacity to deal with the suffering of others. The author's research indicates that as the number of those impacted by suffering increases, our ability to feel it on a personal level does not—it is more than our brain can process. We are more moved when the need is right in front of us or focused on the suffering of one—we think it is within our ability to control.
Yet we owe it to those who have died, to our children, and to ourselves to hold on to the lessons of this time and the frailty of life. And to find peace in the knowledge that God's Word has stood, is standing, and will stand with us forever.
Today's Provision—Pray for peace: Call to mind a story or image that has moved you to feelings of deep compassion. Say a prayer of peace for the people in that story. If you are suffering, join your suffering with that of others as you breath in, and then breathe out peace to all, including to yourself (a prayer practice called tonglen).
Wednesday, December 8: God asked him, "Where are you?" He answered, "I heard you in the garden; but I was afraid, because I was naked, so I hid myself. Then he asked, "Who told you that you were naked?" (Gn 3:9-15, 20)
Given there was no one else around to call attention to Adam and Eve's nakedness, I'd say it must have been their conscience speaking to them! Oh, we all know how that feels…not a particularly peaceful feeling, is it? At some point, most people have tried to hide from God. Typically, we start by ignoring God, but God keeps rustling around in the garden of our conscience. We might resort to pointing fingers at others -- even blaming God — as Adam does! Thank goodness we can turn to Jesus who restores our relationship with God and brings us peace through forgiveness!
Today's Provision—Seek peace through forgiveness: There is nothing that heals and brings peace like true forgiveness, both for those who forgive and those who are forgiven. Even if the person from whom you seek forgiveness or need to forgive is not willing or available, just the conscious act of independently asking for or granting forgiveness can be incredibly freeing. (Read a recent news story about the power of restorative justice: https://www.nytimes.com/2021/11/26/us/missouri-officer-criminal-charge-dismissed.html)
Thursday, December 9: "I, the God of Israel will not forsake them. I will open up rivers on the bare heights, and fountains in the broad valleys; I will turn the desert into a marshland, and the dry ground into springs of water…the hand of the LORD has done this…" (Is 41: 17-20)
We know all things are possible with God, but if there is one thing in particular where God really nails it, it is turning what was barren into fertile ground. Bringing forth life and love where none could exist before. Quenching the thirst of those in search of living water. If you find yourself in a desert place this Advent, or thirsting for more in your life, take heart. Have hope. Let the hand of the Lord lead you to the nourishment and peace you need. God will not forsake you.
Today's Provision—Seek peace through living water: If you've become accustomed to dryness in your spiritual life, you may not even know where to go to quench your thirst. Perhaps your regular wells have run dry. Consider attending a morning or day-long retreat. Or type "online advent retreats" into your web browser and pick from a whole host of options. Get some like-minded friends together and form a spiritual support group. Try praying in a new way. Remove the dams that keep God's living water of peace from flowing through your life.
Friday, December 10: "John came … and they said, 'He is possessed by a demon.' The Son of Man came… and they said, 'Look, he is a friend of tax collectors and sinners.' But wisdom is vindicated by her works." (Mt 11; 16-19)
What is the meaning of the phrase, "wisdom is vindicated by her works" (or her children, as Luke says)? One explanation is that time will vindicate both Jesus and John, but another presents an interesting idea: The Spirit of God, in her infinite wisdom, sends different kinds of messengers to the world. There are people who are swayed by the asceticism of John the Baptist, and those who respond to the table fellowship and inclusiveness of Jesus. Just like there are those who come to God more readily through fasting, penance, and tradition, and those who see God in the faces and the world around them; those who prefer quiet contemplative or imaginative prayer and those who rely on recited prayer. The point is God comes to us where we are, as we are. Like a lover who won't take no for an answer, God will pursue us using messages (and messengers) that speak to our unique needs…if we take the time to look and listen.
Today's Provision—Let God speak peace to you: "No little words can hold a candle to the splendor of the sun; that can explain this world of wonder and shine the same on everyone. But little words can hold a candle all on your own when darkness comes; they're just the size for us to handle, and God knows your native tongue." © David Wilcox, www.youtube.com/watch?v=MvJQQNs-YWs
Saturday, December 11: "Lord, make us turn to you; let us see your face and we shall be saved." (Ps 80).
In Exodus 33:20, Moses, called by God "an intimate friend," asks to see God's glory. God tells Moses, "my face you cannot see, for no man sees me and still lives." In today's psalm, however, the people are asking for just that—to see God's face as a means to their salvation.
Soon we commemorate the answer to this prayer God's light radiated in the face of a little child. Like the moon, reflecting the light of sun and guiding our way in the darkness, Jesus offers us freely what Moses longed for—to see the face of God. "The face of Christ…shows us the one thing we need to know—the character of God." (P.C. Simpson)
Today's provision—Seek peace amid the busyness: It's around the time that preparations go into high gear. It's easy to get distracted from the real goal of our Advent journey. Let's use this day to renew our sense of peace by being grateful to God for all our blessings, especially for the gift of God made flesh in Jesus.
---
We hope you enjoy "Come and See!" and we welcome your input. Please contact Elaine Ireland at
ehireland@loyola.edu
with questions, comments, and responses.
---
To receive "Come and See!" via email, send request to ehireland@loyola.edu.
© 2021, Elaine H. Ireland.
---
Up to 6 weeks of "Come and See!" reflections are saved here.
The latest is always listed first.