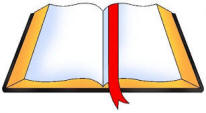 FAITH BOOK
17TH SUNDAY (B) July 25, 2021
2 Kings 4: 42-44; Psalm 145; Ephesians 4: 1-6; John 6: 1-15OP
by Jude Siciliano, OP
---
Mini reflections on the Sunday scripture readings designed for persons on the run. "Faith Book" is also brief enough to be posted in the Sunday parish bulletins people take home.
From today's Gospel reading:
One of Jesus' disciples...said to him,
"There is a boy here who has five barley loaves and two fish,
but what good are these for so many?"

Reflection:

Like his disciples, we see the people's needs and our own inadequacies as well. We shrug our shoulders and say, "We just don't have enough to feed them!" But Jesus wants to address the hungers around us. He takes what few gifts we place at his disposal, our "barley loaves," blesses them and feeds the hungry with them.
So, we ask ourselves:

What hungers are I being asked to address?

What do I have to offer the Lord in service to feed those hungers?
Click here for a link to this Sunday's readings: