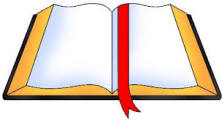 THE HOLY TRINITY (A) JUNE 4, 2023
Exodus 34: 4b-6, 8-9; 2 Cor 13: 11-13; John 3: 16-18
By: Jude Siciliano, O.P. <frjude@judeop.org>
---
Mini reflections on the Sunday scripture readings designed for persons on the run. "Faith Book" is also brief enough to be posted in the Sunday parish bulletins people take home.
From today's first reading:
Early in the morning Moses went up Mount Sinai
as the LORD had commanded him, taking along the two stone tablets.
Thus the LORD passed before him and cried out,
"The LORD, the LORD, a merciful and gracious God,
slow to anger and rich in kindness and fidelity."
Moses at once bowed down to the ground in worship.
Reflection:
Who is this God who is so revelatory to Moses? Who is this God who is about to take the Israelites, a broken and recalcitrant people and make them new again? This is the God who chooses to be with us, despite our own unworthiness.
This is the God who comes in a cloud; who may not be seen, but certainly is experienced. And what do Moses and the people experience of this God? How shall they "name" God? Judging from today's story God is: patient and compassionate; takes the initiative to reach out to us; is not dissuaded by our sins; is faithful to us, even when we have built our own idols to worship; can take a broken people and make them whole again.
Click here for a link to this Sunday's readings: