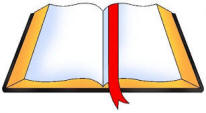 FAITH BOOK

26th SUNDAY

(B) September 26, 2021

Numbers 11: 25-29; Psalm 19; James 5: 1-6; Mark 9: 38-43, 47-48

by Jude Siciliano, OP
---
Mini-reflections on the Sunday scripture readings designed for persons on the run. "Faith Book" is also brief enough to be posted in the Sunday parish bulletins people take home.
From today's Gospel reading:
At that time, John said to Jesus, "Teacher, we saw someone driving out demons in your name, and we tried to prevent him because he does not follow us."
Reflection:
As Christians we look for Christ's presence in the world doing what he did in his lifetime. When someone forgives a wrong done; a neighbor sacrifices time and resources to help someone in need; medical personnel travel across the country to relieve a pandemic-swamped emergency room; a grammar school collects food and clothing for the poor – though the name of Jesus may not be spoken, and the people involved might not be Christian still, we see him present, doing what he always did, reaching out to raise up the fallen and rejected.
So we ask ourselves:
Can we spot the active presence of Jesus in the good deeds done for those in need?

How do our daily activities line up with the good Jesus intends for others?
Click here for a link to this Sunday's readings:
https://bible.usccb.org/bible/readings/092621.cfm