Dear Preachers:
WELCOME: to the latest email recipients of "First Impressions," the parishioners of St. Joseph Parish, Stuart. Florida.
---
Today's feast was known as the Purification of the Blessed Virgin Mary and focused on Mary's fulfilling the requirement of the Jewish ritual purification after childbirth. Now we celebrate the Presentation of the Lord. The focus moves to Jesus and is a kind of epiphany. The feast of the Epiphany celebrates the manifestation of Christ to the Magi, the Gentiles. Today Jesus is presented in the Temple, he is manifested to his own people.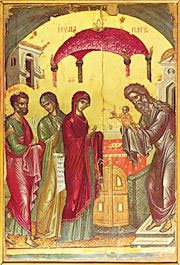 Malachi's anticipation of the moment God's "messenger" comes to the Temple is stark. The arrival will come "suddenly" and his mission will be frightening. He will come with "refiner's fire" and "fuller's lye" to refine and purify. Why this fearsome appearance? Because, while the people had returned from exile and were rebuilding their devastated land and Temple, their interior reconstruction had lagged. Their worship life was poor and their priests were woefully negligent (1: 12-13; 2:8). The chosen people were in a state of spiritual bankruptcy. No wonder Malachi (his name means "my messenger") announced such a stark message about the coming of God's messenger – who would bring about spiritual purification and renewal. "Then the sacrifice of Judah and Jerusalem will please the Lord, as in the days of old, as in years gone by."

Malachi came speaking a harsh message and he was not well received (3: 12-14). Nevertheless, he persisted in announcing God's Word, as did the prophets before him. This rough-sounding message was necessary if the people were to wake up from their indifference to God's ways. In the middle of the night it is not a gentle summer breeze that wakes us from a deep sleep, but thunder and lighting – enter the prophet Malachi, who sees the people in a spiritual daze and tries to awaken them with verbal fireworks and thunder.

Malachi is the last book in the Old Testament. It doesn't seem like a very gracious way to end the often eloquent message to the Jewish people. When I was a teenager and would oversleep, my mother would come into my room, shake my feet and call my name, in a voice louder than usual, to wake me for school. I would wake startled – a rough way to begin the day – but I wasn't late for school! Malachi's voice was a shout and a warning to wake Israel from its spiritual torpor. The bottom line – his harsh language was a grace, reflecting God's persistent attempts to call us back into God's loving embrace.

Malachi prepares the people for the messenger's abrupt arrival in the Temple to begin the work of "refining and purifying." His message does get us on the tip-toe of expectation, doesn't it? It might also get us nervous for what will happen when the messenger arrives. We ask with Malachi, "Who will endure the day of his coming....?"

Luke describes the arrival to the Temple of the one sent by God. Surprise! God's messenger is a baby! Just when we expect God to come smashing and overturning, scattering and frightening, for justifiable reasons, God surprises us. Which summarizes the whole Bible, doesn't it? We expect what we deserve and God comes to our rescue with surprising forgiveness and help.

Who will recognize this long-anticipated arrival? Especially since the one who comes doesn't fit the previous descriptions and expectations? Not the priests, nor those on the seats of power – but two long-praying and alert seniors. Since our society worships at the altar of youth and looks over the heads of our seniors – here's a chance, in the spirit of Anna and Simeon, to praise the faithful, courageous and wise worshipers in our congregations.

How many years have they come to church? How often have they taught our young; volunteered for parish celebrations; prepared food for those grieving after a funeral; counted the collection on Monday mornings and generously donated to building campaigns and charitable events? I could go on for pages. Anna and Simeon's prophetic spirits are still with us, opening our ears and eyes to God's surprising epiphanies among us.

Who were Simeon and Anna? Where did they come from and what theological training did they have for their important roles? We don't know. They certainly didn't belong to the ranks of the Temple officials. They were faithful children of Israel who kept their eyes fixed on God and did not lost sight of God's gracious action on Israel's behalf. Their training came from God. Luke tells us that Simeon was led by the Spirit; Anna "never left the Temple but worshiped night and day with fasting and prayer." Both represent the best of Israel, both had "advanced degrees" in prayer and vigilance and hope. They suggest to us that recognizing God's ways comes through fidelity and prayerful vigilance. Their devotion to God made them available and open to God's revelation.

Simeon correctly predicts that some will follow Christ and others will turn against him. This is the story of the rest of Luke's gospel. The choice to follow, or reject Jesus' way is ours to make. The rejection of Mary's son would be a sword to pierce her heart.

Anna is another example of God's care for the least. She is a widow and so dependent on family and others for her well being; she is a woman in a male-oriented society and she is aged. Her vulnerabilities are succinctly spelled out in Luke's description of her. But so is her greatness noted. She persists in her trust of God and is the first to proclaim God's redemption. "She gave thanks to God and spoke about the child to all who were awaiting the redemption of Jerusalem."

Pope Francis has reminded each of us of our role as evangelists (cf. below.) Anna might be called "the patron saint of evangelists." What is our role as evangelists? Anna shows us: we are to be persistent in prayer, despite the difficulties, trusting in God's goodness and, when the opportunity arises, speak a word of enlightenment, just as Anna did.

One of the prime teachings in the letter to the Hebrews is of Christ's high priesthood. This teaching is coupled with the message about Jesus' willing self-sacrifice on our behalf. We can see why this selection from Hebrews was chosen for the feast we are celebrating – Jesus' presentation in the Temple by his parents. Jesus was not born into the priestly tribe of Levi, but he is still called a priest. Hebrews teaches that he is both the perfect sacrifice for our sins and the priest who offered himself as that sacrifice. Christ, our priest, has saved us by his death, resurrections and exaltation. Christ has made forgiveness possible and given us both access to God and hope for eternal life.

On this feast Hebrews speaks to why Christ became human. From the perspective of this letter, the devil has power over death. To free us from that power and our fear of death, Christ became one of us. As a human he became our "merciful and faithful high priest," as well as the sacrifice "to expiate the sins of the people." Today, our high priest has entered the Temple and the two elderly prophets, who recognize him, announce his arrival and the promise he holds out for us.

Click here for a link to this Sunday's readings:

http://www.usccb.org/bible/readings/020220.cfm

ON EVANGELIZATION:

A quote from Pope Francis:

"Evangelization in this time of great social transformations, necessitates a missionary outreach Church, capable of discernment in order to measure up to different cultures and visions of [people]. For a world in transformation, there is a need for a Church that is renewed and transformed by contemplation and personal contact with Christ, by the power of the Spirit. …It is He Who gives us the strength to undertake the missionary path and the joy of proclamation, so that the light of Christ may illuminate those who still do not know Him or have denied Him. This takes the courage to go forth to 'reach all the peripheries in need of the light of the Gospel.' We cannot be held back by our weaknesses or our sins, nor by the many obstacles to the witness and proclamation of the Gospel."

-- Address with the Pontifical Mission Societies, May 9, 2014

Jesus likewise shared in them, that through death he might destroy the one who has the power of death. . .and free those who through fear of death had been subject to slavery all their life.

--Hebrews 2:14-15

On this start of Black History Month, did you know that during the 19th century, a heavily redacted Bible was used by British missionaries to the West Indies to convert and educate slaves? Known as the "Slave Bible," its official title is Parts of the Holy Bible, selected for the use of the Negro Slaves, in the British West-India Islands. The Museum of the Bible in Washington, D.C. states that the Slave Bible "was originally published in London in 1807 on behalf of the Society for the Conversion of Negro Slaves, an organization dedicated to improving the lives of enslaved Africans toiling in Britain's lucrative Caribbean colonies. They used the Slave Bible to teach enslaved Africans how to read while at the same time introduced them to the Christian faith. The publishers emphasized portions that justified and fortified the system of slavery that was so vital to the British Empire."

Only three copies of this edited Bible are known to exist, and the only copy in the U.S. is at Fisk University, Nashville, TN. This copy was on loan to the Museum of the Bible up until last year where Anthony Schmidt, Associate Curator of Bible and Religion in America at the museum was interviewed. Schmidt states, "About 90 percent of the Old Testament is missing [and] 50 percent of the New Testament is missing. . .Put in another way, there are 1,189 chapters in a standard Protestant Bible. This Bible contains only 232." Sections, such as the first 19 chapters of Exodus, the Book of Psalms, and the Book of Revelation that could instill in slaves a dangerous hope for freedom and dreams of equality were omitted.

Schmidt says passages that could have prompted rebellion were removed and verses that reinforced the institution of slavery, including "the most famous pro-slavery verse that many pro-slavery people would have cited," says Schmidt, were kept. This verse is: "Servants, be obedient to them that are your masters according to the flesh, with fear and trembling, in singleness of your heart, as unto Christ"-- Ephesians 6:5.

Jesus must have cried.

To listen to an audio on this subject, go to NPR's All Things Considered:

https://www.npr.org/2018/12/09/674995075/slave-bible-from-the-1800s-omitted-key-passages-that-could-incite-rebellion

---Barbara Molinari Quinby, MPS

Director of Social Justice Ministries

Holy Name of Jesus Cathedral, Raleigh, NC

Mini-reflections on the Sunday scripture readings designed for persons on the run. "Faith Book" is also brief enough to be posted in the Sunday parish bulletins people take home.

From today's Gospel reading:

"And coming forward at that time,

she [Anna] gave thanks to God and spoke about the child

to all who were awaiting the redemption of Jerusalem."

Reflection:

Anna might be called "the patron saint of evangelists." She shows us: we are to be persistent in prayer, despite the difficulties, trusting in God's goodness and, when the opportunity arises, speak a word of enlightenment, just as Anna did.

So we ask ourselves:
Have you ever thought of yourself as an "evangelist?"
When and how do you evangelize, and to whom?
POSTCARDS TO DEATH ROW INMATES
"One has to strongly affirm that condemnation to the death penalty is an inhuman measure that humiliates personal dignity, in whatever form it is carried out."
---Pope Francis
Inmates on death row are the most forgotten people in the prison system. Each week I post in this space several inmates' names and addresses. I invite you to write a postcard to one or more of them to let them know we have not forgotten them. If you like, tell them you heard about them through North Carolina's, "People of Faith Against the Death Penalty." If the inmate responds you might consider becoming pen pals.
Please write to:
William Barnes #0020590 (On death row since 3/10/94)
Jeffrey Kandies #0221506 (4/20/94)
Vincent M. Wooten #0453231 (4/29/94
---Central Prison, 4285 Mail Service Center, Raleigh, NC 27699-4285

For more information on the Catholic position on the death penalty go to the Catholic Mobilizing Network:

http://catholicsmobilizing.org/resources/cacp/

On this page you can sign "The National Catholic Pledge to End the Death Penalty." Also, check the interfaith page for People of Faith Against the Death Penalty:

http://www.pfadp.org/

"First Impressions"

is a service to preachers and those wishing to prepare for Sunday worship. It is sponsored by the Dominican Friars. If you would like "First Impressions" sent weekly to a friend, send a note to fr. John Boll, OP at jboll@opsouth.org.

If you would like to support this ministry, please send tax deductible contributions to fr. Jude Siciliano, O.P.

St. Albert Priory, 3150 Vince Hagan Drive, Irving, Texas 75062-4736

Make checks payable to: Dominican Friars. Or, go to our webpage to make an online donation:

https://www.PreacherExchange.com/donations.htm

1. We have compiled Four CDS for sale:
Individual CDs for each Liturgical Year, A, B or C
One combined CD for "Liturgical Years A, B and C."
If you are a preacher, lead a Lectionary-based scripture group, or are a member of a liturgical team, these CDs will be helpful in your preparation process. Individual worshipers report they also use these reflections as they prepare for Sunday liturgy.

You can order the CDs by going to our webpage:

www.PreacherExchange.com and clicking on the "First Impressions" CD link on the left.

2. "Homilías Dominicales" —These Spanish reflections on the Sunday and daily scriptures are written by Dominican sisters and friars. If you or a friend would like to receive these reflections drop a note to fr. John Boll, O.P. at

Jboll@opsouth.org.

3. Our webpage: www.PreacherExchange.com - Where you will find "Preachers' Exchange," which includes "First Impressions" and "

Homilías

Dominicales," as well as articles, book reviews, daily homilies and other material pertinent to preaching.

4. "First Impressions" is a service to preachers and those wishing to prepare for Sunday worship. It is sponsored by the Dominican Friars. If you would like "First Impressions" sent weekly to a friend, send a note to fr. John Boll, OP at the above email address.
---
Thank you and blessings on your preaching,
fr. Jude Siciliano, O.P.

St. Albert the Great Priory of Texas
3150 Vince Hagan Drive
Irving, Texas 75062-4736
972-438-1626
---
Click on a link button below to view the reflection indicated.
(The newest items are always listed first.)