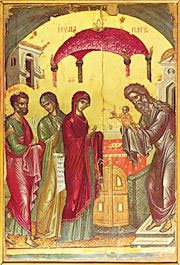 FAITH BOOK
THE PRESENTATION OF THE LORD February 2, 2020
Malachi 3: 1-4; Psalm 24; Hebrews 2: 14-18; Luke 2: 22-40
By Jude Siciliano, OP
Mini reflections on the Sunday scripture readings designed for persons on the run. "Faith Book" is also brief enough to be posted in the Sunday parish bulletins people take home.
From today's Gospel reading:
"And coming forward at that time,
She [Anna] gave thanks to God and spoke about the child
To all who were awaiting the redemption of Jerusalem."
Reflection:
Anna might be called "the patron saint of evangelists." She shows us: we are to be persistent in prayer, despite the difficulties, trusting in God's goodness and, when the opportunity arises, speak a word of enlightenment, just as Anna did.
So, we ask ourselves:
Have you ever thought of yourself as an "evangelist?"

When and how do you evangelize, and to whom?
---