Contents: Volume 2 - 1st SUNDAY of ADVENT
Year C November 28th, 2021
---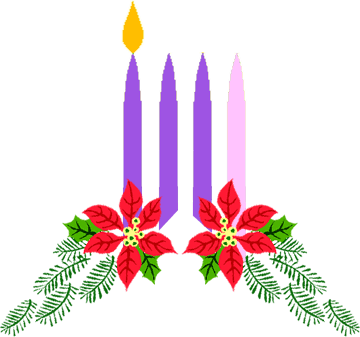 1. -- Lanie LeBlanc OP
2. -- Carol & Dennis Keller
3. -- Brian Gleeson CP
4. -- Paul O'Reilly SJ
5. --(Your reflection can be here!)
*****************************************************
*****************************************************
Advent 1 C 2021
In the Gospel reading according to Luke, Jesus gives us a glimpse of the disastrous times that will happen at the end of the world. Again, the description is way beyond scary with people understandably dying of fright. Somehow, however, we are still encouraged to "stand erect", "raise your heads" and be able "to stand before the Son of Man".
This encouragement reminds me a bit of the half empty/half full question about one's perspective on life. The Gospel words are aimed to be words of hope amid this disaster. We are, namely, to pray that we will not be consumed by the anxieties of life, but rather remember that our redemption is at hand.
For many today, life's anxieties are just plain overwhelming! For starters, many people are struggling with maintaining the very basics of life, some with life and death decisions, and others with an onslaught of continual problems relating to the pandemic. These concerns are layered on top of expected happenings relating to ordinary life such as jobs and schools, where you live, and how you spend your time, etc.
For me, it often seems difficult to "stand erect" symbolically, but not so hard to raise my head. Curling up quietly while patting one of my cats allows me to catch my breath and pray. I look upward for those graces and blessings that are so abundant and also so needed for daily life especially in difficult times.
That works for me! Something like that will work for you, too. What is important, I think, is to remember that our faith does not make things easy, just possible, especially at the most difficult of times. Faith plus prayer can lead us all past temptations of drowsiness, carousing, drunkenness, and feeling overwhelmed to a better Christian life this Advent.
Blessings,
Dr. Lanie LeBlanc OP
Southern Dominican Laity
******************************************************
******************************************************
First Sunday of Advent November 28 2021
Jeremiah 33:14-16; Responsorial Psalm 25; 1st Thessalonians 3:12 – 4:2; Gospel Acclamation Psalm85:8; Luke 21:25-28 & 34-36
Just try figuring out what the meaning of the passage chosen from the prophet Jeremiah. This prophet was the most unhappy of the prophets. He seemed to always see the devastation that was coming to his beloved nation. Despite his warnings of terrible diplomatic decisions by civil authorities, those brilliant tacticians did what they thought was in the best interests of themselves. Who should they cozy up to? Should it be Assyria, that fantastic empire that knew no defeat? Or was it Egypt with its great economic successes assuring prosperity and good living? Or maybe it was Babylon with its wonderful architecture and gardens, such a pleasure to the eyes? Or maybe, just maybe it was sticking with the covenant with Yahweh? In the light of these possibilities, Jeremiah announces God's intention to made good on the promise the secessionist region that became the nation Israel and the survivor of the rebellion, the nation of Judah. Of course, the applying the promise to Israel was politically incorrect. But, no matter, Jeremiah makes it in any case. It is from the house of David, that first successful king of the whole nation, that a shoot would spring up. It is as though the stump of the great tree that was the Davidic dynasty would show promise of new growth. The growth would be a renewal – well, no, not so much a renewal but more of a rebirth.
Well, maybe he recalled being thrown into a dry cistern in the city. Those enemies had hoped he'd have the good sense to sink into the mud and die. Friends pulled him out. He stubbornly returned to his work warning the nation.
Perhaps it was the clarity of his nation's current situation that led him to taking the Ark of the Covenant into the mountains and sealing it and the articles associated with it in a cave, never to be found even to this day? It was a terrible time for Jeremiah who loved his city, the temple, the nation, and especially the people.
Yet in this Sunday's first reading there is a flash of hope that has nothing to do with political intrigue, with secret treaties, with rebellion. What Jeremiah has understood in his visions and shouted about to his people was the utter corruption of leadership and in the followers of those leaders. What he prophesizes this Sunday is what will come to pass after corruption has its sway. God will not give up on his people. Through the mouth of Jeremiah, God commits. "I will raise up for David a just shoot; he shall do what is right and just in the land. In those days Judah shall be safe, and Jerusalem shall dwell secure; this is what they shall call her: 'The Lord our justice.'"
It is interesting that just when we are watching with bated breath a number of court proceedings regarding unjust deaths and terrifying expressions of hatred based on color of skin, language, national origin, and flight of families seeking safety and meaningful life – it's interesting that we hear Jerusalem identified as the result of the Lord's Justice. This justice of which Jeremiah speaks is different than the justice rendered by a cluster of 12 persons based on the skill of lawyers. This justice is God's justice. The justice of man is either condemnation or reprieve. In either case there is great sadness and a lack of restoration of life.
The Rabbis taught that to recognize God's justice persons had to look at the effect of God's intervention with justice. God is the creator – that is always the starting point. If we forget that then to think about God's love is without foundation. If we forget the story of creation, then we forget how God views the fruit of his Word. The experience of the people of God – the Hebrew nation purified by their release from Pharaoh and their difficult desert experience – is summarized in the review of his work. In each day of creation God finishes his work by declaring "it is good." But on the sixth day, the day of creation of living beings and finally of humanity God is understood to say, "It is very good." Creation itself is a Galaxy, there are hundreds of thousands of solar systems. And in the universe itself the number of galaxies is impossible to number. And it appears that even now new galaxies are being created.
What has all this to do with us? God's justice has to do with his work of creation. God sees creation and loves it all. It is still hard for me to quite figure out why God created mosquitoes and to declare them good. But there it is. If God loves his creation, moved as God is by the goodness of his work, then God must wish that each bit of creation has what it needs no merely to survive but to flourish. If that is God's love for God's creation, if that is God's intention and will, then who are we to challenge it?
We begin preparation this Sunday for the remembering of the birth of Jesus. We begin another iteration of the liturgical cycle which is intended to lead us through wandering the desert of learning. This preparation begins during the darkest time of the year. Daylight is fading and darkness covers our endeavors. This cycle reflects as well the darkness of our times. The Signs of Our Time are bending toward increased darkness as well. Now is the time of preparation for the light to come. While we hurry and scurry for gifts, for meal preparation, for party gatherings we must look into our hearts to see what is there. The brightness of the season, the joy of the coming of the Lord can fail to light up our hearts and lift our spirits. It is time to clean our houses and rid ourselves of violence, of hatred, of grabbing for power or wealth or influence. Those sneaky little devils rob us of peace and challenge the Justice of God.
How do we go about challenging the darkness that rise in our hearts and migrates to our minds? There are three activities that clean our interior houses. Those three are prayer, fasting, and almsgiving. For a prayer we suggest a simple mantra: "Come, Lord Jesus, come!" It is simple and easy to remember. In moments of stress, in moments of delight, in moments of hard work, in moments of leisure, this is an easy prayer.
As for fasting: fasting is more than a project to lose weight. Fasting throughout our Judeo-Christian tradition is to provide resources for others. So, sticking with hot dogs and beans in place of pot roast would be a savings. That savings should find its way to those who are slipping toward non-survival. It is meant to lift them up into a flourishing as is God's justice.
As for almsgiving: this is a sharing of resources, a gift of what we have earned and have every right to retain for ourselves. This giving is an expression of our understanding that all creation "is good" and is a sharing of that goodness with those who have need.
The gospel continues the past two weeks. It's about struggle, about persecution, about terrible darkness. Jesus' message is for us to take heart. Despite the roar of nations, of terror, of warfare, of evil seeming to triumph, and of evil men seeming to hold sway, we must not forget that God is with us. That God will assist us. And though evil persons kill our bodies, they do not have access to our spirits unless we allow them in. It is a call to claiming the truth of God's presence in response to the lies and marketing efforts of evil persons. Despite all that evil throws at us, God is our light and our hope. We need this time of Advent to accept Jesus' reassurances that he walks with us.
Come, Lord, Jesus, Come! Enter our hearts and sweep them clean of corruption and darkness. Lift us up from the slavery imposed by Pharaoh and feed and hydrate us as we walk through these four weeks of desert training. Come, Lord, Jesus, Come!
Carol & Dennis Keller dkeller002@nc.rr.com
******************************************************
******************************************************
THE CHALLENGE OF ADVENT-CHRISTMAS
Jeremiah 33:14-16; 1 Thessalonians 3:12-4:2; Luke 21: 25-28, 34-36
We celebrate important events, such as marriages and birthdays, and especially of family members and friends that we know, love and appreciate.
On this first Sunday of Advent, we begin our countdown to Christmas, when we will be celebrating the birth of Jesus Christ, the Savior of the world and our personal Savior. What are we meant to do, then, during our four weeks of preparation for Christmas? (I hope nobody is thinking 'shop till we drop.' That's not the reason for the season).
Advent is a time to stop, look and listen, a time to look back and look forward, a time to take stock of our lives, a time to see ourselves as part of the bigger picture of both the Church and the world, a time to appreciate where we have come from and where we are going, a time to remember that all through the days, months and years of our lives, our God has been with us and beside us, and has kept loving us, no matter what.
More specifically, Advent is a time to hear God speaking to us about ourselves and our behaviour, our Church and our world. It's a time for letting God remind us in our Advent Readings about becoming the kind of people that deep-down want to be – people of warm love, joy, peace, patience, kindness, generosity, fidelity and self-control. In responding to God's Word, we will express sorrow for the ways we may have been too wrapped up in ourselves, for how we may have become distant from God and others, and for the ways we may have hurt, neglected, or rejected this person or that.
Advent is also a time for doing justice, i.e., in the biblical sense, for recognizing and promoting the dignity of others. In keeping with the Mission Statement of Jesus that he unrolled in the Synagogue of Nazareth (Luke 4:16-30), the time has arrived to use our personal, family, and church resources to assist poor, deprived, and broken people, especially those close by.
We recognise too that this Advent-Christmas season does indeed suggest 'let's celebrate!' So, let's show outwardly our inner joy for being alive, for having a safe roof over our heads; food on our tables; clothes on our backs; shoes on our feet; money in our wallets or purses; health and strength for our tasks and responsibilities, including our shared concern to keep our God's good and beautiful Earth in a harmonious balance. It's a time to give thanks for God's gifts of music to our ears; for movies, books, computers, internet, radio, television, DVDs, and video clips that inform and entertain us; a time to give thanks for God's gifts of family and friends for company, support, fun, and laughter; for the precious presence of Jesus Christ in our church community to guide and challenge, comfort and encourage us; and for the example of Mother Mary, who inspires us by her total commitment and dedication, and keeps praying for us. So, in short, Advent also means making time to count our blessings one by one and thank the Lord 'from whom all blessings flow.'
In more Christian times, Sunday as a day of rest, relaxation, reflection and prayer, was taken seriously. In our mad, materialist, profit-motive, consumer-driven society, in which having has become more important than being, and style and image more important than substance and sincerity, Sunday has become like any other day. The result is a far more hectic pace of life than any previous generation ever experienced, and more and more people with frazzled nerves, and screaming inside, 'Stop the world, I want to get off!' The result of so much hyper-activity and so much overwork is too much pill-popping, too much drinking and too much drug-taking. The result, in short, is a deteriorating quality of life, with far less time just to be, to stop and think, to look and listen, and to contemplate e.g., the beauty of the ocean, a sunset, a flower, or the innocent face of a child. The result is far less time to share and care, and to savour and appreciate those best things in life that are free!
This Advent-Christmas season is, therefore, a new gift from God, who is inviting us both as individuals and as a church community to deliberately let go, on the one hand, of all the clutter of things that crush or diminish us, and, on the other hand, to let God re-make us, our values and priorities.
This First Sunday of Advent is New Year's Day of our new Church Year. It is therefore an opportunity, like no other, to deliberately take time out for better care of ourselves, and to be more available and generous to others. It's a precious opportunity to deliberately replenish our inner resources, re-organise our priorities and relationships, and to make more time than ever before, for family and friends, and for all those other people for whom our becoming new persons in this new Church Year, will make a difference. So, dear People of God, what are we going to do about it?
May the passion of Jesus Christ, and his everlasting love, be always within our minds and hearts!
"Brian Gleeson CP" <bgleesoncp@gmail.com>
******************************************************
******************************************************
Year C: 1st Sunday of Advent
"There will be signs in the sun and moon and stars; on earth nations in agony, bewildered by the clamor of the ocean and its wave; men dying of fear as they await what menaces the world, for the powers of heaven will be shaken."
There were four of us in our novice-ship - Matthew, Chris, Tony and myself. And in the summer of 1999, just after we had all been ordained and were about to be sent our separate ways, we all decided to have a reunion. And it happened that this was the time of a total eclipse of the sun, the 11th August, 1999 – a once in a lifetime event that was going to be best seen in Cornwall, where it so happened that Matthew's mother lived. So we all gathered at Matthew's mum's place for the event. And it was a beautiful autumn day; we were out on the lawn and there was sunshine and there were birds singing and there was a good bottle of red wine on the table and everybody was having a good time.
Initially we thought we must have missed it, because it happened a few minutes later than we expected. But then the first thing we noticed was that all the birds just suddenly stopped singing. And then we all stopped talking. And there was a dead uneasy silence – a horrid silence - the most profound and deadly silence that I've ever heard. It really was as the song says, a 'silence that like a cancer grows'. And then over the following minute, it suddenly grew dark as if someone was turning down a great dimmer switch in the sky – a long black cloud coming down until it was dark - too dark to see. And it really did feel like we were knocking on heaven's door and not getting much of an answer. And then, suddenly, it became very, very cold. And that cold dark silence went on and on and on. In actual time, it was only a few minutes, according to the astronomers 7 minutes and 10 seconds; but it felt like half a lifetime. Plenty long enough for us all to begin to wonder if it would ever end. And I thought how easy it must have been for ancient peoples who knew nothing of the true causes of these events to believe that it must be some Evil One blocking the sun and blocking out all light and warmth and goodness. And, if you will forgive one more song reference, (I promise it's the last) I thought of Bonnie Tyler singing about 'a total eclipse of the heart'. And I realised that this is just about as close as I'll probably ever get to feeling what so many people feel – those known to everyone who does pastoral work – the people who live lives of quiet desperation, feeling alone and friendless and Godless in a cold, lifeless, loveless, faithless, hopeless, alienated world.
Then, out of all that cold, dark, empty silence there came a noise – a noise I did not immediately recognise – like a very quiet rustling. It continued for minute after minute, getting neither louder nor quieter. And after those few minutes listening to this, Matthew got up, took off his jacket and with great affection, put it across his mother's shoulders. Immediately the noise stopped; it had been her shivering.
A few minutes later, as the light and the warmth and the birdsong returned, I thought about that as the truly authentic Christian response to evil in the world. We do not claim to change the world, at least not all at once; only to listen to it, to silence ourselves so that we can hear one person's shiver, and respond to it in whatever way we can. That is not the answer to all the evil that there is in the world, but it is something we can do.
And that is our hope for this Advent – to silence the self, to silence all the selfish consumerist noise, so that we can hear the sound of the slightest distress in a person that we might just be able to help. It is in this way that we hope to fulfill our call to Prepare a way for the Lord in our World – to make straight his Paths – and to make our little part of God's world fit to receive its Savior. The Lord hears the cry of the Poor; the Lord hears the shiver of the Cold. And the Lord sends us to do something about it.
Let us pray that each of us may live in the silence in which we can hear the cry of the poor and the shiver of the cold and respond as Christ our Lord did before us.
And let us stand and profess our Faith in the abiding Love of God.
Paul O'Reilly, SJ <fatbaldnproud@opalityone.net>
******************************************************
******************************************************
Volume 2 is for you. Your thoughts, reflections, and insights on the next Sundays readings can influence the preaching you hear. Send them to preacherexchange@att.net. Deadline is Wednesday Noon. Include your Name, and Email Address.
-- Fr. John Boll, OP
---
-- ABOUT DONATIONS --
If you would like to support this ministry, please send tax deductible contributions to Jude Siciliano, O.P.,
Make checks payable to: Dominican Friars.
St. Albert Priory, 3150 Vince Hagan Drive, Irving, Texas 75062-4736
Or, go to our webpage to make an online donation: https://preacherexchange.com/donations.htm
-- REGULAR INFORMATION ---
To UN-subscribe or Subscribe, email "Fr. John J. Boll, OP." <preacherexchange@att.net>
-- WEB PAGE ACCESS --
-- Go to http://www.preacherexchange.com Where you will find "Preachers' Exchange," which includes "First Impressions" and "Homilías Dominicales," as well as articles, book reviews and quotes pertinent to preaching.
-- Also "Daily Reflections" and "Daily Bread." and many other resources.
A service of The Order of Preachers, The Dominicans.
Province of St. Martin De Porres
(Southern Dominican Province, USA)
P.O. Box 8129, New Orleans, LA 70182
(504) 837-2129 ● Fax (504) 837-6604
(form revised 2020-09-23)
---
We keep up to six articles in this archive. The latest is always listed first.