Each week we are posting General Intercessions for the upcoming Sunday liturgies by Msgr. Joseph Masiello, retired pastor of Holy Trinity Parish, Westfield, NJ. These intercessions are based on the assigned scriptures, the liturgical season and current events.
---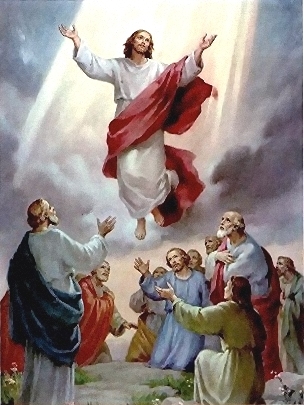 ASCENSION OF THE LORD
CELEBRANT: Because Jesus is with us until the end of time, we can pray with trusting hearts.
READER: Please respond, "LORD, HEAR OUR PRAYER!"
1. That "clothed with power from on high," God's holy people, clergy and laity, may live faithfully and lovingly as the body of Christ in the world, we pray. . .
2. That the leaders of the nations may turn from the ways of war and violence and learn to clothe themselves in justice and peace, we pray. . .
3. That every country that is able may rush to the aid of the people of India in their covid catastrophe, and the vaccine rollout reach evermore speedily and effectively the poor of the world, we pray. . .
4. That all people who hurt, who doubt, who fear may come to know, through the compassion of the baptized, that God, our hope and our strength, is always with us, replacing emptiness with fullness, we pray. . .
5. That many of our young people may choose to be the Lord's witnesses, even to the ends of the earth, as priests and religious, we pray. . .
6. That our service men and women, our first responders, and essential workers may know the blessing of safety; and the seriously ill in our community and among our family members and friends be gifted with love's comfort and the healing touch of our God, (especially ________________,) we pray. . .
7. That those who mourn, especially for loved ones lost to the corona virus and gun violence, may be lifted up in hope by Easter's promise of life; and ____________, (and) all our beloved dead live forever with our God in a peace beyond measure, we pray. . .
CELEBRANT: Gracious God, help us to be, in word and work, your holy witnesses, and unite our petitions with the prayer of the Christ, our Risen and Ascended Lord, seated at your right hand forever and ever.
---