Dear Preachers:
PRE-NOTE:
1. Friends, each Advent we post an appeal for support of our "Preacher Exchange" webpage and our email "First Impressions." But, considering the financial strain so many of us are experiencing, I decided to put the appeal off till Lent, when I hope things have improved for all of us. Then I will come back with open hands extended!
Meanwhile, we have posted an Advent prayer on our webpage:

Go to:
https://preacherexchange.com/ and click on "Quotable." You might also want to check out past quotes listed below on that page.

2. Advent begins a new liturgical year. For the most part, the Sunday gospel passages will be taken from Luke's gospel. For an overview of Luke go to our webpage https://preacherexchange.com/ and click on "Preaching Essay" on the left.
---
---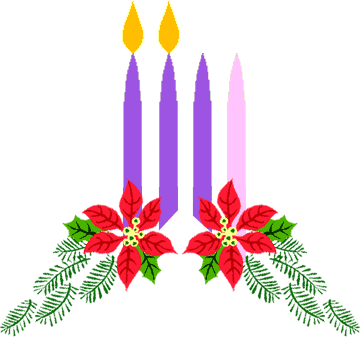 In today's gospel passage Luke sounds like a history teacher. " In the fifteenth year of the reign of Tiberius Caesar...." We're not used to a gospel writer spending much time on historical data and geography. We are still early in this gospel and we get the impression from Luke that whatever is going to happen in the course of this narrative will take place at a very specific time and location. Salvation, according to Luke, is not a children's fairy tale, but it is a very concrete event in human history.
John the Baptist is the clarion voice announcing the beginning of a new age; the time of Jesus and his ministry. Luke connects us to the promises made in the past by the prophets and is now beginning to show their fulfillment in the present. The period announced by John will end with Jesus' ascension to heaven. Then the Acts of the Apostles (Luke's second volume) will begin the narration of a third period when the Church expands Jesus' ministry into the future-- until the end of time.
John the Baptist is a very important figure in all the gospels and each begins by telling of his ministry. John sets the stage for the One who is to come. In Luke's telling John is a prophet, like the prophets of old. Just as God spoke the Word to the people through the prophets in the past, God is speaking the Word once again through the prophet John. With John's arrival we begin to move from the promises of the Old Testament to their fulfillment in the gospel. Israel's longed-for salvation has taken flesh and John is announcing his immanent arrival.
There's no escaping, or watering down, what John is asking: "a baptism of repentance for the forgiveness of sins...." He's calling people to change their ways, not just a cosmetic makeover, but a complete turning around ("metanoia"). He wants people to stop going in their own direction, making decisions based on their own preferences, move towards God and be open to what God is about to do for them. Such a turning would require profound change in their thinking and acting.
Most people don't have to be told that they are sinners, in fact, many of us carry the burden for past misdeeds around with us throughout our lives. That guilt affects how we think of God, ourselves and how we treat others. John the Baptist is often depicted in austere terms, a scary prophet. But his message is one of relief and fulfillment: God is drawing near with the offer of forgiveness and will do for us what we could not do for ourselves.
We are not yet celebrating the birth of the Christ Child. Instead we are preparing for the coming of the adult Christ who, as the prophet Isaiah promised, washes away sins, "...all flesh shall see the salvation of God." As wonderful as the feast of Christmas is, John points us not to the child Jesus, but to the coming Christ, whose life, death and resurrection save us. One of the key messages in Luke's Gospel is that God reaches out, not just to a select religious group, but to all people ("all flesh"); as the Baptist reminds us, God's salvation is for everyone, no one is to be left out.
At the time of the Babylonian empire whenever the monarch traveled workers would precede him leveling the ground and filling in ditches to make the way smooth for his chariots. By quoting Isaiah, "Prepare the way of the Lord, make straight God's paths," John directs our gaze to the topography of our own lives: where are the "valleys," the empty places that the coming Christ can fill in? What are the "mountains," those forces that tower over us and leave us feeling impotent: debilitating habits, sins, addictions, social pressures, etc? Those of us who look for Christ's coming anew to us this Advent must admit we haven't fully responded to the Baptist's (and Isaiah's) proclamation to prepare the way.
There are still personal and communal twists and turns, a "winding road," that divert us away from the straight paths that open to the Savior's entrance into our lives. There are valleys of discouragement and frustration, as well as mountains of resistance to Baruch's vision of a just community. We need help, another appearance of Christ into our lives, so we can continue to work for the completion of his mission in our world. But not by our own power! Luke announces the beginning of a new age with Christ's coming. After Christ completes his mission his community will be gifted with his Spirit so we can continue the work of straightening the "winding roads"; filling in the valleys and making the mountains low for the final arrival of Christ.
We who hear this gospel today are in the third period of history – the time of the Church. And anyone of us can testify it is a time of stress, confusion, anxiety and, for some, persecution. Advent reminds us that this is also a time for us to practice patience and hope in the promise of the gospel: God's kingdom will come in its fullness.
Let's not skip over the first reading, from the prophet Baruch, it is sheer poetry! But Jerusalem needs more than poetic imagery and pretty language at this moment, for the city is in ruins and its children carried off into Babylonian exile. Devout Jews longed to return to Jerusalem, portrayed as the ideal city in the Scriptures. Baruch envisions a time when those in the Diaspora will return to their true home. It'll be a new exodus made possible by God's command. How else could a defeated people be resurrected, except by the life-giving Word of God?
The restored people will wrap themselves in "the cloak of justice from God." The garments they will wear suggests the life they will have together in the new Jerusalem. Justice is not merely one virtue among many in the Bible rather, for God's community, it is the key virtue. It reflects the very way God treats us. In a community guided by justice all are treated equally; all share in the community's resources; no one goes hungry or is treated unfairly. The daily news reminds us we are far from being those who are clothed in "the cloak of justice." The pandemic has made bad things worse, with an increase of families and individuals in our country who lack consistent access to adequate food and shelter.
Baruch's message is good news indeed for the forlorn and scattered people! Despite their past sins and disloyalties, God has not left them to perish, but promises to restore the nation and the city. God will gather the scattered children from the four corners of the world. The Responsorial Psalm today celebrates the return of the exiles, "The Lord has done great things for us; we are filled with joy."
Jerusalem was never fully restored and so the people began to hope in another kind of restoration. Their expectations turned to the coming of the Messiah to proclaim God's kingdom to the world. Baruch is an Advent prophet who touches our deepest feelings and our longings for the fullness of God. The people continued to experience oppression, dispersion, domination, and longing. Imagine their excitement when John the Baptist, quoting Isaiah's messianic vision, announced the imminent arrival of the One who will bring "the salvation of God."
Click here for a link to this Sunday's readings:
https://bible.usccb.org/bible/readings/120521.cfm
John the Baptist is the prophet who rejects the system without apology, eats the harsh food of that choice, and wears the clothes of rejection.
Like our native peoples here in New Mexico, he goes on his vision quest into the desert where he faces his aloneness, boredom and naked self. He returns with a message, a clarity, a sureness of heart that reveals a totally surrendered man.
First he listens long and self-forgetfully; then he speaks, acts and accepts the consequences. Transformed people transform people, and John's little offbeat ritual down by the riverside (outside of the temple where his father served) has become for us the very symbol of Christian transformation. And Jesus went along with it! Think about that.
---Richard Rohr, OFM. Adapted from "Radical Grace: Daily Meditations," pp. 24-25
(Source: "Masculine Spirituality," from "Radical Grace," May 1988)
"For God is leading Israel in joy by the light of His glory, with His mercy and justice for company"
Baruch 5:9
By tradition, each of the Advent candles has a name and, depending how you learned them, there can be a little variation. I have always called the first one, "Preparation or Expectation" (The Prophecy Candle), the second "Hope" (The Bethlehem Candle), the third, "Joy" (The Shepherd's Candle), and the fourth and final one, "Peace & Love or Peace & Justice" (The Angel's Candle).
Hope is stressed at the beginning of Advent. In today's reading from Baruch, we hear a series of prophetic oracles of hope to the exiles and a call to trust in the Lord. Think how much Mary and Joseph were hoping for a good, safe outcome and how, as strangers, they found no room for themselves. Pope Francis writes of hope in the migrant situation, "Even hope, like all good things in this world, has enemies... Hope is the push in the heart of those who leave their home, and sometimes their family and relatives - I am thinking of migrants - to find a better life, with more dignity for themselves and their loved ones... It's also the push in the heart of those who welcome: the desire to encounter, meet, dialogue... hope is the push to share the journey."
Pope Francis also states, "Although the life of a person is in a land full of thorns and weeds, there is always a space in which the good seed can grow. You have to trust God." You are to have hope. https://www.xavier.edu/jesuitresource/online-resources/quote-archive1/pope-francis
I remember a wonderful Ted Talk that Pope Francis gave in April of 2017 about "The Future You." He states Catholic belief in the value of every being and that we are called to help those we encounter by supporting one another, thus inspiring a hope-filled future, even when things may be really bad. He declares, "To Christians, the future does have a name, and its name is Hope. Feeling hopeful does not mean to be optimistically naïve and ignore the tragedy humanity is facing. Hope is the virtue of a heart that doesn't lock itself into darkness, that doesn't dwell on the past, does not simply get by in the present, but is able to see a tomorrow."
May this second week of Advent, be one filled with hope.
To view Pope Francis 17 minute Ted Talk, go to:
https://www.youtube.com/watch?v=36zrJfAFcuc
Barbara Molinari Quinby, MPS, Director,
Office of Human Life, Dignity, and Justice Ministries
Holy Name of Jesus Cathedral, Raleigh, NC
Mini-reflections on the Sunday scripture readings designed for persons on the run. "Faith Book" is also brief enough to be posted in the Sunday parish bulletins people take home.
From the prophet Baruch:
Jerusalem take off your robe of mourning and misery;
put on the splendor of glory from God forever:
wrapped in the cloak of justice from God.
Reflection:
The prophet Baruch promises a time when we will be "wrapped in the cloak of justice." Justice is not merely one virtue among many. For God's community, it is the key virtue. It reflects the very way God treats us. In a community guided by justice, all are treated equally; all share in the community's resources; no one goes hungry or is treated unfairly.
So we ask ourselves:
How did I feel when an injustice was done against me?
What can I do to help another person not be treated in the same way I was?
POSTCARDS TO DEATH ROW INMATES
"Love all my friends and all the friendships that I have made. They are like the sky. It is all part of life, like a big full plate of food for the soul. I hope I left everyone a plate of food full of happy memories, happiness and no sadness."
—Last words of Quintin Jones before he was executed on May 19, 2001 at Huntsville Prison, Texas. Media witnesses were not admitted to his execution.
---
This is a particularly vulnerable time for state and federal prisoners. I invite you to write a postcard to one or more of the inmates listed below to let them know we have not forgotten them. If the inmate responds you might consider becoming pen pals.
Please write to:
Robbie Locklear #0246186 (On death row since 5/14/1996)
Archie Billings #0471315 (6/5/1996)
Angel Guevara #0506556 (6/20/1996)
----Central Prison, P.O. 247 Phoenix, MD 21131

Please note: Central Prison is in Raleigh, NC., but for security purposes, mail to inmates is processed through a clearing house at the above address in Maryland.

For more information on the Catholic position on the death penalty go to the Catholic Mobilizing Network:

http://catholicsmobilizing.org/resources/cacp/

On this page you can sign "The National Catholic Pledge to End the Death Penalty." Also, check the interfaith page for People of Faith Against the Death Penalty: http://www.pfadp.org/

"First Impressions"

is a service to preachers and those wishing to prepare for Sunday worship. It is sponsored by the Dominican Friars. If you would like "First Impressions" sent weekly to a friend, send a note to fr. John Boll, OP at jboll@opsouth.org.

If you would like to support this ministry, please send tax deductible contributions to Fr. Jude Siciliano, OP.

St. Albert Priory,

3150 Vince Hagan Drive,

Irving, Texas 75062-4736

Make checks payable to: Dominican Friars.

Or, go to our webpage to make an online donation:

https://www.PreacherExchage.com/donations.htm

1. We have compiled Four CDS for sale:
Individual CDs for each Liturgical Year, A, B or C
One combined CD for "Liturgical Years A, B and C."
If you are a preacher, lead a Lectionary-based scripture group, or are a member of a liturgical team, these CDs will be helpful in your preparation process. Individual worshipers report they also use these reflections as they prepare for Sunday liturgy.

You can order the CDs by going to our webpage:

www.PreacherExchange.com and clicking on the "First Impressions" CD link on the left.

2. "Homilías Dominicales" —These Spanish reflections on the Sunday and daily scriptures are written by Dominican sisters and friars. If you or a friend would like to receive these reflections drop a note to fr. John Boll, OP at Jboll@opsouth.org.

3. Our webpage: - https://preacherexchange.com/ Where you will find "Preachers' Exchange," which includes "First Impressions" and "Homilías Dominicales," as well as articles, book reviews, daily homilies and other material pertinent to preaching.

4. "First Impressions" is a service to preachers and those wishing to prepare for Sunday worship. It is sponsored by the Dominican Friars. If you would like "First Impressions" sent weekly to a friend, send a note to Fr. John Boll, OP at the above email address.
---
Thank you and blessings on your preaching,
Fr. Jude Siciliano, OP

St. Albert the Great Priory of Texas
3150 Vince Hagan Drive
Irving, Texas 75062-4736
972-438-1626
---
Click on a link button below to view the reflection indicated.
(The newest items are always listed first.)