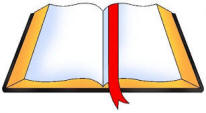 FAITH BOOK
CHRIST THE KING (B) November 21, 2021
Daniel 7: 13-14; Psalm 93; Revelation 1: 5-8; John 18: 33b-37
by Jude Siciliano, OP
---

Mini reflections on the Sunday scripture readings designed for persons on the run. "Faith Book" is also brief enough to be posted in the Sunday parish bulletins people take home.
From today's Gospel reading:

Pilate said to Jesus, "Are you the King of the Jews?" ...
Jesus answered, "My kingdom does not belong to this world."
Reflection:

Jesus' kingdom, his world, is with us now. We have, through our baptism and the gift of the Spirit, been given the vision to see the presence of the kingdom and its life-giving possibilities. It is a world of community, equality, respect, and dialogue. In the kingdom, under Jesus' rule, each person's gifts are recognized. The poor and neglected are empowered and no one is left out. Justice is given to each, regardless of their political influence, race, gender, or economic status.
So, we ask ourselves:
Who or what set of values rule my life and guide my daily decisions?

What can I do to respond more fully to Jesus' rule in my life
Click here for a link to this Sunday's readings:
https://bible.usccb.org/bible/readings/112121.cfm
---
FAITH BOOK ARCHIVE: