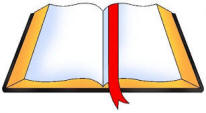 FAITH BOOK
33rd SUNDAY (B) November 14, 2021
Daniel 12: 1-3; Psalm 16; Hebrews 10: 11-14,18; Mark 13: 24-32
Jude Siciliano, OP
---
From today's Gospel reading:
Heaven and earth will pass away
but my words will not pass away
Reflection:
Our faith invites us to trust that, even amid complete upheaval, God has not abandoned us. "The tribulation" Jesus predicts for his disciples is about to take place for him. When their world collapses with Jesus' death, will they remember and cling to his words and look forward to an entirely new Spring? The same can be asked of us.
So, we ask ourselves:
As we face our own tribulations can we trust that Jesus' words will not to fail us and that he will be faithful to us?
How can I be a symbol of Jesus' steadfastness to others in their trials?
Click here for a link to this Sunday's readings:
https://bible.usccb.org/bible/readings/111421.cfm
---
FAITH BOOK ARCHIVE: