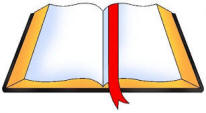 FAITH BOOK
27th SUNDAY -C- October 2, 2022
Habakkuk 1: 2-3, 2: 2-4; Psalm 95;
2 Timothy 1: 6-8, 13-14; Luke 17: 5-10
By: Jude Siciliano, OP
---

Mini reflections on the Sunday scripture readings designed for persons on the run. "Faith Book" is also brief enough to be posted in the Sunday parish bulletins people take home.

From today's Gospel reading:

Jesus said, "If you have faith
the size of a mustard seed,
you would say to this mulberry tree,
'Be uprooted and planted in
the sea,' and it would obey you.'"
Reflection:

Mustard seed faith is planted in us at our baptism. It is watered and cultured by family, friends, and the worshiping community and so it grows. Great faith is already contained in the mustard seed. We tend to be preoccupied by size and quantity. We presume that we need a lot of faith to tackle the important issues in our lives and the world around us. This preoccupation can limit our whole-hearted, response to the tasks we disciples have before us.
So, we ask ourselves:
Have we ever used the excuse that our faith is weak and done nothing when we should have done something?

Have we encouraged others in their faith? How?
Click here for a link to this Sunday's readings:
https://bible.usccb.org/bible/readings/100222.cfm
---
FAITH BOOK ARCHIVE: