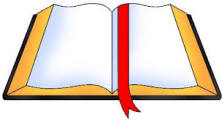 FAITH BOOK
26th Sunday (A) - October 1, 2023
Ezekiel 18: 25-28; Psalm 25;
Philippians 2: 1-11; Matthew 21: 28-32
by Jude Siciliano, OP
---
Mini-reflections on the Sunday scripture readings designed for persons on the run. "Faith Book" is also brief enough to be posted in the Sunday parish bulletins people take home.
From today's Gospel reading:
A man had two sons. He came to the first and said, "Son go out and work in the vineyard today." He said in reply, "I will not," but afterwards changed his mind and went. The man came to the other son and gave the same order. He said in reply, "Yes, sir," but did not go.
Which of the two did his father's will?"
They answered, "The first."
Reflection:
Did you notice in today's parable there is no mention of how things turned out when the first son changed his mind and went into the vineyard? How hard of a worker was he when he finally got to the vineyard to work?
Did he do what was expected of him? There are no standards or measurements of success laid out for us in this story. The emphasis is just on someone who changed his mind; who in the end, responded to an invitation.
Maybe that is what is pleasing to God: our desire to serve and our attempts, if at times feeble, to respond –while we leave plenty of room for God to step in and fill in the gaps: The big ones and the small ones.
So we ask ourselves:
Shall we pray today for healing from past hurts caused by those who lied to us or disappointed us?
And shall we ask for the ability to forgive them?
Click here for a link to this Sunday's readings:
https://bible.usccb.org/bible/readings/100123.cfm
---
FAITH BOOK ARCHIVE:
---