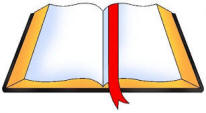 FAITH BOOK
25th SUNDAY -C- SEPTEMBER 18, 2022
Amos 8: 4-7; Psalm 113;
I Timothy 2: 1-8; Luke 16: 1-1
by Jude Siciliano, OP
---
Mini reflections on the Sunday scripture readings designed for persons on the run. "Faith Book" is also brief enough to be posted in the Sunday parish bulletins people take home.
From today's Gospel reading:
Jesus said to his disciples...
"I tell you, make friends for yourselves with dishonest wealth
so that when it fails,
you will be welcomed into eternal dwellings."
Reflection:
Jesus calls us to look at money and possessions not as ends in themselves, but as instruments we can use to further God's vision for ourselves and the world. The material things I have are like a trust I do not possess for my own sake, but as part of God's plan for me, as a disciple of Jesus, in the world.

So we ask ourselves:
Have I so made money and career so much a part of my life that I have little time for God?

How am I using my talents and possessions to further the God's reign of love and justice?
Click here for a link to this Sunday's readings:
https://bible.usccb.org/bible/readings/091822.cfm
---
FAITH BOOK ARCHIVE: