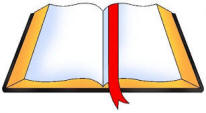 FAITH BOOK
24th SUNDAY -C- September 11, 2022
Exodus 32: 7-11, 13-14; Psalm 51;
I Timothy 1: 12-17; Luke 15: 1-32
Jude Siciliano, OP
---
From today's Gospel reading:

Coming to his senses the boy thought....
I shall get up and go to my father and I shall say to him,
"Father I have sinned against heaven and against you,
I no longer deserve to be called your son...."
Reflection:

Like the boy in the parable, who went off to a "distant land," when we have wandered from God, grace stirs up a longing in us to return "home." Then grace enables us to turn around and make the sometimes-arduous journey to our true dwelling place with God. Thanks to grace, we find we can do what has seemed impossible. Grace is not defined in the Bible but is at the heart of every biblical story and our story as well.
So, we ask ourselves:
What surprising and unexpected experience of grace have I had recently?
To whom am I being sent to be the face of grace in their lives?
Click here for a link to this Sunday's readings:
https://bible.usccb.org/bible/readings/091122.cfm
---
FAITH BOOK ARCHIVE: