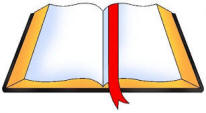 FAITH BOOK
23rd SUNDAY -C- SEPTEMBER 4, 2022
Wisdom 9: 13-18; Psalm 90;
Philemon 9-10, 12-17; Luke 14: 25-33
Jude Siciliano, OP
---
Mini reflections on the Sunday scripture readings designed for persons on the run. "Faith Book" is also brief enough to be posted in the Sunday parish bulletins people take home.
From today's Gospel:

"If anyone comes to me without hating their father and mother,
wife and children, brothers, and sisters, and even their own life,
they cannot be my disciple."
Reflection:
Jesus uses stark language today to make a point. There is no putting off decisions we must make and changes we have not yet gotten around to. We must carefully think out and weigh: how are to respond to Jesus today? What is very clear from the gospel is that it costs to serve completely and utterly this Christ we call Lord.
So, we ask ourselves:
What decisions have we been putting that we know Christ is asking us to make?

What will be the costs for us if we make these decisions?
Click here for a link to this Sunday's readings:
https://bible.usccb.org/bible/readings/090422.cfm

---
FAITH BOOK ARCHIVE: