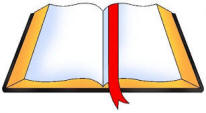 FAITH BOOK
22nd SUNDAY (B) August 29, 2021
Deut. 4: 1-2, 6-8 PS. 15
James 1: 17-18, 21b-22, 27 Mk. 7: 1-8,14-15, 21-23
By: Jude Siciliano, OP
---
Mini reflections on the Sunday scripture readings designed for persons on the run. "Faith Book" is also brief enough to be posted in the Sunday parish bulletins people take home.
From today's Deuteronomy reading:

Moses said to the people...
"For what great nation is there that has gods so close to it
as the Lord our God, is to us
whenever we call upon God?"
Reflection:

Moses is reminding the Israelites that they had received gifts from God – freedom from slavery, daily nourishment and protection along their escape route. God did these wonderful deeds because of God's love for the Israelites, not because they deserved it, but because God wanted to do good things for them – as God wants to do for us.
So, we ask ourselves:
Can I remember a time when I was in a personal desert and experienced God's strong and loving presence?

For whom can I be that strong and loving presence now?
Click here for a link to this Sunday's readings:
https://bible.usccb.org/bible/readings/082921.cfm