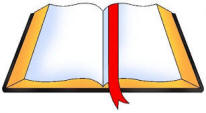 FAITH BOOK
19th SUNDAY -C- August 7, 2022
Wisdom 18: 6-9; Psalm 33; Hebrews 11: 1-2, 8-19; Luke 12: 32-48
Jude Siciliano, OP
---
From today's Hebrew's reading:
"Faith is the realization of what is hoped for and evidence of things not seen."
Reflection:
Faith doesn't already possess the goal; nor does it always have concrete evidence of its existence. Still, we believers can see and hope for what is not yet visible to the eye, because we see with the eyes of faith. We trust, as our ancestors did, in our God, who has promised to be with us; whom the Book of Wisdom reminds us is worthy of our trust. God's promises give us courage to continue to take bold steps on our faith journey.
So, we ask ourselves:
How am I being asked to step out in faith at this time in my life?

What promise do I hear God making me as I try to take that step?
Click here for a link to this Sunday's readings:
https://bible.usccb.org/bible/readings/080722.cfm
---
FAITH BOOK ARCHIVE: