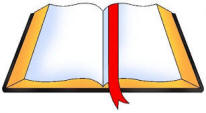 FAITH BOOK

6th Sunday

(A)

Sirach 15: 15-20; Psalm 119;
1 Corinthians 2: 6-10; Matthew 5: 17-37

by Jude Siciliano, OP
---
Mini-reflections on the Sunday scripture readings designed for persons on the run. "Faith Book" is also brief enough to be posted in the Sunday parish bulletins people take home.
From today's Gospel reading:
Jesus said to his disciples:
"Therefore, if you bring your gifts to the altar,
and there recall that your brother [sister] has anything against you,
leave your gift at the altar, go first and be reconciled with [them]
and then come and offer your gift."
Reflection:
We Christians are called to a different way of living, in our relations to each other and then to the world. We seek reconciliation where there is anger and alienation. We tame our desires despite the license of the world around us. We are faithful to one another and so, when we make promises, we keep them.
So, we ask ourselves:
As I come to church today, do I bear any bitterness against someone?
What can I do to be reconciled with them?
Click here for a link to this Sunday's readings:
https://bible.usccb.org/bible/readings/02
---
FAITH BOOK ARCHIVE: