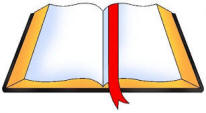 FAITH BOOK

5TH SUNDAY

(A) FEBRUARY 5, 2023

Isaiah 58: 7-10; Psalm 112;
I Corinthians 2: 1-5 3; Matthew 5: 13-16

Jude Siciliano

, OP
---
From today's Gospel reading:
Jesus said to his disciples:
"You are the salt of the earth.
But if salt loses its taste, with what can it be seasoned?
It is no longer good for anything."
Reflection:
Jesus Christ is not only calling us the "salt of the earth," he is telling us to be that salt. It's an awesome responsibility for we are to be witnesses who point the way to Jesus. We may feel as small and insignificant as salt, such a tiny ingredient, but like salt we are to mix in, not avoid, life in the world. People will recognize the flavor we bring into the world–it is the quiet, but effective presence of Christ–the one with whom we have a lasting covenant of salt.
So we ask ourselves:
How and where am I a "salty" witness to the living Christ?
What daily practices do I follow to sustain myself as "salt of the earth?"
Click here for a link to this Sunday's readings:
---
FAITH BOOK ARCHIVE: