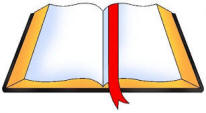 Mini-reflections on the Sunday scripture readings designed for persons on the run. "Faith Book" is also brief enough to be posted in the Sunday parish bulletins people take home.
---
From today's Gospel reading:
Blessed are you when they insult you and persecute you
and utter every kind of evil against you falsely because of me.
Reflection:
People of faith, inspired by the Beatitudes, have a different way of looking at life. Living our "beatitude calling" is difficult, but we know God stands with us and, in our daily lives, help us put flesh on the Beatitudes. Even as we try, stumble and try again to live the Beatitudes, we hear Jesus' reassurance, "You are already blessed."
So we ask ourselves:
Concretely how do we experience the opposition of others because of our faith?

What gives us strength to continue to live out that faith despite the obstacles we face?
Click here for a link to this Sunday's readings.
https://bible.usccb.org/bible/readings/012923.cfm
---
FAITH BOOK ARCHIVE: