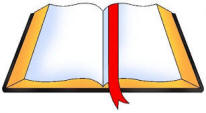 FAITH BOOK

2nd Sunday in Ordinary Time

(A) January 15, 2023

Isaiah 49: 3, 5-6; Psalm 40;
1 Corinthians 1: 1-3; John 1:29-34

Jude Siciliano

, OP
---
From today's Gospel reading:
John testified further, saying,
"I saw the Spirit come down like a dove from heaven and remain upon him....
Now I have seen and testified that he is the Son of God."
Reflection:
Twice John the Baptist admits, "I did not know him." For a while he had to proceed with his mission on faith, waiting for God to point out the One whose coming John had been proclaiming.. When the Spirit descended on Jesus, John's waiting had been fulfilled. We often have to continue doing the good that we do without seeing immediate results. Like John we put our trust in God, who first called us.
So, we ask ourselves:
Do you sometimes weary of not seeing immediate results for your good efforts?
What signs do you look for to confirm that you are doing God's will?
Click here for a link to this Sunday's readings:
https://bible.usccb.org/bible/readings/011523.cfm
---
FAITH BOOK ARCHIVE: