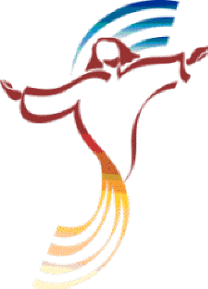 Week of August 15th, 2021
Come and See!
The Word…
When Elizabeth heard Mary's greeting, the infant leaped in her womb,
and Elizabeth, filled with the Holy Spirit, cried out in a loud voice and said,
"Blessed are you among women, and blessed is the fruit of your womb.
And how does this happen to me, that the mother of my Lord should come to me?
For at the moment the sound of your greeting reached my ears,
the infant in my womb leaped for joy. Blessed are you who believed
that what was spoken to you by the Lord would be fulfilled."
(from Lk 1:39-56)
---
Pondering the Word …
Let's review what Elizabeth is referring to: "what was spoken to you by the Lord would be fulfilled." Here are the angel Gabriel's words to Mary: "Behold, you will conceive in your womb and bear a son, and you shall name him Jesus. He will be great and will be called the Son of the Most High, and the Lord God will give him the throne of David his father, and he will rule over the house of Jacob forever, and of his kingdom there will be no end."
(Lk 1:31-33)
At this point in the story, the only thing Mary might know as being fulfilled is that she has conceived. There is still a lot to come for Mary -- joy, yes, and things to ponder, but also confusion, suffering, swords that pierce her heart. Fulfillment will be a long time coming.
The literal translation of Elizabeth's words expresses Mary's reality more clearly: "And how blissful she who has faith, for from the Lord will come fulfillment of what she has been told." Mary is blessed with faith in what "will come." Not in what happens today, not what happens through Jesus' childhood, ministry, death, and resurrection.
Mary's faith is not about what happens to her or that she will be called "blessed" by generations to come. Mary's faith is in God and God's promise.
"For the vision is yet for an appointed time, but at the end it shall speak, and not lie: though it tarry, wait for it; because it will surely come..."
(Hb 2:3)
---
Living the Word …
For the past few weeks, several readings have addressed the Lord's promise and the challenges of keeping faith in the future: The weeds and the wheat, the continual grumbling of the Israelites in Exodus, Elijah and the broom tree, Moses seeing the Promised Land, but not crossing over. This week, we read from the Book of Judges. One verse stood out to me: "I will never break my covenant with you." (Jgs 2:1)
If we go back a few months, you might remember our theme this year is the grace of metanoia—a change in heart, a change in mind. Perhaps it is a good time to renew our prayers for that grace, that in the face of much suffering and confusion, we follow Mary's lead. We take time to ponder, to consider how God is working through everything we experience to bring about the Kingdom without end. Pray to have the faith of Mary, to allow for God's fulfillment, not our own.
---
Mon, Aug 16: The young man said to him, "All of these I have observed. What do I still lack?"
(Mt 19:16-22)
Some version of this story shows up in the lectionary every year, sometimes more than once! With good reason: it's an important conversation Jesus would like to have with each one of us.
Today's reflection: Put yourself in the scene. Be bold and ask Jesus, "What do I still lack?" What is Jesus' answer?
Provision: As you go about your day, be aware: What gets in my way of loving God before all else? What keeps me from following Jesus?
Tue, Aug 17: Gideon answered, "If I find favor with you, give me a sign…Do not depart from here, I pray you, until I come back to you and bring out my offering and set it before you." He answered, "I will await your return."
(Jgs 6:11-24)
Gideon is not sure what's going down here. Why would the Lord's messenger come to him? So, like many of his forefathers, he asks for a sign. I wonder as he went off to collect his offering (which is interesting in itself, since Israel is starving at this point!) if he thought about hightailing it out of there. But the Lord's messenger says, "I will await your return." There is no place Gideon can hide from the call.
Today's reflection: Has God's messenger been "nudging" you? Do you feel a call to do or to be something you don't think you are suited for or even capable of? Something that frightens you? God's messenger awaits.
Provision: God is used to being asked for a sign. Go ahead and ask, but make sure you are paying attention. God's messenger is often hidden in plain sight.
Wed, Aug 18: "Why do you stand here idle all day?" They answered, "Because no one has hired us."
(Mt 20:1-16)
Why were these laborers not hired? Maybe they weren't out there at the crack of dawn waiting with those who were hired. Maybe they had worked long into the night at another job or taking care of sick relatives or children. Maybe they were hesitant, thinking they were not as capable as the others to do a full-day's labor.
Today's reflection: This parable is about God's mercy and generosity, and that we are not to begrudge that generosity given to those we judge as not being as worthy. But for now, let's take it literally: Do you judge or belittle those who don't appear to work as hard or as long as you do? Have you ever considering asking someone like this to join you as you begin your labor for that day?
Provision: Take a minute before you pass judgment: Do I know this other laborer's story?
Thu, Aug 19: "Sacrifice or oblation you wished not, but ears open to obedience you gave me. Burnt offerings or sin-offerings you sought not. Here I am, Lord; I come to do your will." (Ps 40)
God desires from us a willingness to abandon our desires and plans in favor of following the path set for us, wherever it leads; to have faith in God's promise. Elaborate rituals are useless if we are not ready to at least try to put aside our own will and accept what God has in store. The sacrifices God seeks are open ears, minds, and hearts.
Today's reflection: Say aloud in prayer, "Here I am Lord, I come to do your will."
Provision: Don't expect a voice booming from the heavens to answer you. Be aware as you go about your day. God's will is evident in the moment. Do your examen each night to look back on where you have experienced God's will and how you have responded.
Fri, Aug 20: "Do not ask me to abandon or forsake you! For wherever you go, I will go…"
(Ru 1: 1, 3-6, 14-16, 22)
The beautiful Book of Ruth is about love, but it is also about the risks these two women are willing to take for each other. Real love requires risk.
Today's reflection: Having faith and loving God requires risk, a willingness to trust and be vulnerable. What holds you back from truly loving God, others, and yourself?
Provision: Be like Ruth and Naomi today and take the first step to trust in God. It needn't be something big. Just allow God to take the lead.
Sat, Aug 21: Jesus spoke: "The scribes and the Pharisees have taken their seat on the chair of Moses. Do and observe all things whatsoever they tell you, but do not follow their example. For they preach but they do not practice."
(Mt 23:1-12)
There might not be an elephant in your room, but there's one in mine. I know many people struggling with institutional religion, myself included. For some, the pandemic has been a time of deep, personal growth in faith. Others question whether they want to be part of institutions that espouse things that don't align with their personal beliefs, or churches that do not practice what they preach. I'm reminded of what Jesus says in Mt 5:17: he did not come to abolish the law, but to fulfill it…to show us, not how to "do" in light of the law, but how to "be" in light of God's desire for us.
Today's Reflection: To play on a Mark Twain quote, "Don't let school get in the way of your education," don't let religion get in the way of your faith. No matter how divinely inspired and guided, religions are human institutions fraught with human frailties. That is a reality we need to accept. But God "will never break the covenant with you."
Provision: If you struggle with this issue, give it time, but also give it attention. Pray. Talk to God. Do not ignore it or let it fester. Seek compassionate—not dogmatic—advice.
---
We hope you enjoy "Come and See!" and we welcome your input. Please contact Elaine Ireland at
ehireland@loyola.edu
with questions, comments, and responses.
---
To receive "Come and See!" via email, send request to ehireland@loyola.edu.
© 2021, Elaine H. Ireland.
---
Up to 6 weeks of "Come and See!" reflections are saved here.
The latest is always listed first.