Contents: Volume 2 - The Baptism of the Lord -A-
January 12 , 2020
---
The

Baptism

of the

the Lord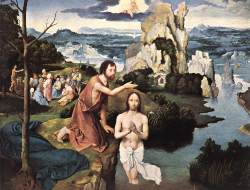 1. -- Lanie LeBlanc OP
2. -- Brian Gleeson CP
3. -- Deacon Russ O'Neill
4. --(Your reflection can be here!)
*****************************************************
*****************************************************
Feast of the Baptism of the Lord 2020
Before Jesus began his earthly mission, he was anointed and
baptized by John. He was sent by the Father, as His beloved, in
fulfillment of Isaiah's prophecy: to bring justice to the nations.
Jesus' task was to be accomplished by being "a light for the nations,
to open the eyes of the blind, to bring out prisoners from confinement,
and from the dungeon, those who live in darkness."
We, too, as Christians, have been anointed, baptized, and sent
forth to do the same for we, too, are beloved of the Father. Jesus did
not proclaim his own greatness to set out in boldness to do this, but
set an example for us in humility. As followers of Jesus, then, we must
also approach our part in ministry with humility.
Who is it in our midst who is blind and can not see the Truth? Who
is it that we know who seems confined by something in their lives? Who
is it that seemingly lives in the dungeon of darkness and depression?
It is that person to whom we have been sent, now, today! We are
to be a gentle not blinding light to those we encounter. We must not
shout or worsen the condition of anyone bruised or suffering, but follow
the example of Jesus' compassion and gentleness.
If ever our world needs compassion and gentleness, it is in 2020!
Sometimes we may feel like pounding the truth into those who refuse to
see what we think is the obvious road to right living, the compassionate
treatment of others, and, yes, peacefulness... but pounding it in was
not Jesus' way with others ... or with us! He was often quite
straight-forward, but did everything from his heart of love, gently
leading others and us to Himself.
May we, in our ministry, whether it be in our homes, workplaces,
neighborhoods, or parishes seek to follow Jesus' ways, not our own
inclinations. May we take the time to pray frequently and act
intentionally. May we humbly remember that each person we encounter is
also beloved by the Father.
Blessings,
Dr. Lanie LeBlanc OP
Southern Dominican Laity
******************************************************
******************************************************
JESUS' BAPTISM AND OURS (A)
A few years ago news came from England that Prince Edward, the youngest
son of Queen Elizabeth, was leaving the Royal Marines. He took only four
months to discover that military service was not his thing.
At the time the news was received with shock and horror. 'It's bad
form,' some said, 'a lack of loyalty and a dereliction of duty'. There
was speculation that his mother was upset and that his father was furious.
This is actually a fairly common family situation. Parents have their
own ideas about a suitable career or occupation for their child. The
children have different ideas, or no ideas, about what they want to do
with their future. Or perhaps along the way they chop and change from
one thing to another, until at long last the day comes when they start
to settle down.
Jesus of Nazareth had lived with his mother Mary in the little town of
Nazareth for about 30 years. It seems that his foster-father Joseph had
died when Jesus was a teenager, and that the son took over the family
building business. No doubt this pleased his mother.
So we can only wonder what she was feeling that day he told her he was
leaving home, and leaving Nazareth, as well as the building trade they
had relied upon for years and years, and going off on his own somewhere
far away. Worse than that, that he was going to no new job, or at least
to nothing for which he had been trained. We may presume that this news
rocked Mary, left her feeling very sad and very worried.
But there was no holding him back. For he had a hunch that God had
something quite special for him to do. He didn't know exactly what it
was. But it would be something to do with that amazing fellow John, who
had been baptizing repentant sinners left, right, and centre, in the
River Jordan.
And so our gospel today tells us: 'Jesus came from Galilee to the Jordan
to be baptized by John.' (He was baptized, not because he needed a
baptism of repentance himself but in order to identify with, and reach
out to those who did).
Then it happened. There and then, after he was baptized, the awareness
hit him like a bolt from the blue. He had always known and felt that he
was deeply loved by God. In his prayers, he had always called God both
'My Father' and 'Our Father'. But on this occasion God speaks to him so
loudly and so clearly that there can be no mistake about his identity
before God, and about what God expected of him: 'You are my beloved Son
and Servant', God assures him. In other words, there and then God is
asking him to be nothing less than the Messiah, the promised Saviour,
the one who would make God's kingdom, God's rule and reign over
everything and everybody, begin to happen everywhere.
In effect, the message Jesus was hearing from God at his baptism was
this: 'Go to my people. Tell them that I love them. Show them that I
love them. Gather them together and bring them back to me.' There and
then Jesus understood the whole future direction of his life.
Now that he knew what was expected of him there would be no holding back
and no delay. As we hear in our Second Reading today, in that famous
verse from the Acts of the Apostles: '... because God was with him,
Jesus went about doing good and curing all who had fallen into the power
of the devil'.
We too, all of us, are dearly and deeply loved by God. He is our Father
too. We are His sons and daughters. We have been made so by our baptism.
We are also brothers and sisters of Jesus. By our baptism we have been
joined to his person, and share in his life and mission. So much so,
that each of us may be called 'another Christ'.
As we celebrate his baptism and ours in this Eucharist, then, can we
re-open our hearts to his call? Can we hear him saying to us what he
said to Jesus: 'Go to my people. Tell them that I love them. Show them
that I love them. Gather them together and bring them back to me'?
"Brian Gleeson CP" <bgleesoncp@gmail.com>
******************************************************
******************************************************
Three pastors got together for coffee one morning. Much to
their surprise, they discovered that all three churches had problems
with bats infesting in the belfries. The bats were making a terrible
mess. "I got so mad," said one pastor, "I took a shotgun and fired at
them. It made holes in the ceiling, but did nothing to the bats." "I
tried trapping them alive, said the second. "Then I drove 50 miles
before releasing them, but they beat me back to the church." "I haven't
had any more problems," said the third pastor. "What did you do" asked
the others, amazed. "I simply baptized and confirmed them," he
replied. " I haven't seen them since."
(Ask someone) Do you remember when you were baptized? You don't? How
come? Probably because you were just a baby. (If parent there) Do you
remember when he was baptized? Yes, your parents and godparents and
grandparents have memories and pictures to prove that it really
happened. There was a party – which you probably slept through. There
were cards and gifts and celebration. Why? Because they were
celebrating your new life – not only in the family - but as a new
member of the Catholic Church. You were brought to Baptism by your
parents (maybe right here) because you were a creation of love, because
you were a special child of God, and because your parents made up their
minds that they would do everything possible to raise you as a
Christian. Your parents wanted for you what was and is important for
them – Christ is part of their lives and they wanted that for you as well.
Did you ever wonder why Jesus was baptized? After all, he didn't need
Baptism to take away sin. Can't you just picture Jesus coming up out of
the water, his body drenched, his beard dripping, his hair matted and
stringy. His garments covered with dirt? As he comes to shore, he
couldn't look less like the Son of God, the promised Redeemer. So why
was he baptized? Jesus' baptism in the Jordan was, in a sense, the
inauguration of his mission. It sent him off into his ministry of
preaching. Healing and forgiving. Through his baptism, he came to the
fullest realization of who he was and what is life was all about. It
was a public event that put him on the spot – that defined just who he
was. Everything else Jesus did flowed from his baptism.
And then, did you hear the voice from heaven: "You are my
beloved son; with you I am well pleased!" Jesus is loved and praised
before he even did anything – before the first miracle or any preaching
– he is praised simply for who he is. And really, God said the same
thing to each of us at Baptism - "You are my beloved son; you are my
beloved daughter." (Ask someone ) – have you ever thought of yourself
in that way? That can be pretty powerful. And being the specially
loved son or specially loved daughter of God doesn't excuse us from the
hard work of doing good. It requires us to do good. In fact, just like
Jesus, God expects us to make a difference in the world.
Just as that baptism in the Jordan was THE defining moment of Jesus'
life, the moment from which everything he did flowed, so it should be
for our baptism and our life. Our baptism (even if we don't remember
it) should be THE defining moment of our life. It should give
definition to every one of our days, to everything we say and do, to
every choice we make. And like Jesus, we have a mission to make the
world holy by our lives. That's not always easy. In fact, it's often
pretty hard. But what gives it all meaning is our baptism and those
words that God speaks to us: "You are my beloved daughter; you are my
beloved son."
In a moment we will renew our Baptismal promises and be
sprinkled with the waters of new life. This morning, we can each say
for ourselves what our parents said for us when we were baptized. Let's
be conscious of what we're doing. God has something to say, calling us
to look up, to listen and to follow. We have a chance to renew our
commitment of faith. In our Baptism, as in the Baptism of Jesus, we
celebrate God's welcoming love, a love that comes prior to anything we
may have done and prior to anything we may yet do. And the wonder of it
all is that each day God renews his love for us and each day he speaks
to us tender words about who we are and what we have done and what we
can do. Hear what he says to you. Jesus says that you are loved in a
special way. You are his beloved son; you are his beloved daughter.
Let that always show in how you live.
Deacon Russ O'Neill
Russ O'Neill <russon2330@sbcglobal.net>
******************************************************
******************************************************
Volume 2 is for you. Your thoughts, reflections, and insights on the
next Sundays readings can influence the preaching you hear. Send them to
preacherexchange@att.net. Deadline is Wednesday Noon. Include your Name,
and Email Address.
-- Fr. John

---
-- ABOUT DONATIONS --
If you would like to support this ministry, please send tax deductible contributions to Jude Siciliano, O.P.,
Make checks payable to: Dominican Friars.
St. Albert Priory, 3150 Vince Hagan Drive, Irving, Texas 75062-4736
Or, go to our webpage to make an online donation: http://preacherexchange.com/donations.htm
-- REGULAR INFORMATION ---
To UN-subscribe or Subscribe, email "Fr. John J. Boll, O.P." <preacherexchange@att.net>
-- WEB PAGE ACCESS --
-- Go to http://www.preacherexchange.com Where you will find "Preachers' Exchange," which includes "First Impressions" and "Homilías Dominicales," as well as articles, book reviews and quotes pertinent to preaching.
-- Also "Daily Reflections" and "Daily Bread." and many other resources.
A service of The Order of Preachers, The Dominicans.
Southern Dominican Province, USA
1421 N. Causeway Blvd., Suite 200 Metairie, LA. 70001-4144
(504)837-2129 Fax (504)837-6604
---
We keep up to six articles in this archive. The latest is always listed first.