"FIRST IMPRESSIONS"
THE PRESENTATION OF THE LORD -
February 2, 2020
Malachi 3: 1-4; Psalm 24; Hebrews 2: 14-18; Luke 2: 22-40
by Jude Siciliano, OP
Dear Preachers:
WELCOME: to the latest email recipients of "First Impressions," the parishioners of St. Joseph Parish, Stuart. Florida.
---
Today's feast was known as the Purification of the Blessed Virgin Mary and focused on Mary's fulfilling the requirement of the Jewish ritual purification after childbirth. Now we celebrate the Presentation of the Lord. The focus moves to Jesus and is a kind of epiphany. The feast of the Epiphany celebrates the manifestation of Christ to the Magi, the Gentiles. Today Jesus is presented in the Temple, he is manifested to his own people.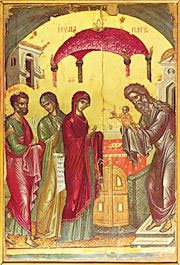 Malachi's anticipation of the moment God's "messenger" comes to the Temple is stark. The arrival will come "suddenly" and his mission will be frightening. He will come with "refiner's fire" and "fuller's lye" to refine and purify. Why this fearsome appearance? Because, while the people had returned from exile and were rebuilding their devastated land and Temple, their interior reconstruction had lagged. Their worship life was poor and their priests were woefully negligent (1: 12-13; 2:8). The chosen people were in a state of spiritual bankruptcy. No wonder Malachi (his name means "my messenger") announced such a stark message about the coming of God's messenger – who would bring about spiritual purification and renewal. "Then the sacrifice of Judah and Jerusalem will please the Lord, as in the days of old, as in years gone by."
Malachi came speaking a harsh message and he was not well received (3: 12-14). Nevertheless, he persisted in announcing God's Word, as did the prophets before him. This rough-sounding message was necessary if the people were to wake up from their indifference to God's ways. In the middle of the night it is not a gentle summer breeze that wakes us from a deep sleep, but thunder and lighting – enter the prophet Malachi, who sees the people in a spiritual daze and tries to awaken them with verbal fireworks and thunder.
Malachi is the last book in the Old Testament. It doesn't seem like a very gracious way to end the often eloquent message to the Jewish people. When I was a teenager and would oversleep, my mother would come into my room, shake my feet and call my name, in a voice louder than usual, to wake me for school. I would wake startled – a rough way to begin the day – but I wasn't late for school! Malachi's voice was a shout and a warning to wake Israel from its spiritual torpor. The bottom line – his harsh language was a grace, reflecting God's persistent attempts to call us back into God's loving embrace.
Malachi prepares the people for the messenger's abrupt arrival in the Temple to begin the work of "refining and purifying." His message does get us on the tip-toe of expectation, doesn't it? It might also get us nervous for what will happen when the messenger arrives. We ask with Malachi, "Who will endure the day of his coming....?"
Luke describes the arrival to the Temple of the one sent by God. Surprise! God's messenger is a baby! Just when we expect God to come smashing and overturning, scattering and frightening, for justifiable reasons, God surprises us. Which summarizes the whole Bible, doesn't it? We expect what we deserve and God comes to our rescue with surprising forgiveness and help.
Who will recognize this long-anticipated arrival? Especially since the one who comes doesn't fit the previous descriptions and expectations? Not the priests, nor those on the seats of power – but two long-praying and alert seniors. Since our society worships at the altar of youth and looks over the heads of our seniors – here's a chance, in the spirit of Anna and Simeon, to praise the faithful, courageous and wise worshipers in our congregations.
How many years have they come to church? How often have they taught our young; volunteered for parish celebrations; prepared food for those grieving after a funeral; counted the collection on Monday mornings and generously donated to building campaigns and charitable events? I could go on for pages. Anna and Simeon's prophetic spirits are still with us, opening our ears and eyes to God's surprising epiphanies among us.
Who were Simeon and Anna? Where did they come from and what theological training did they have for their important roles? We don't know. They certainly didn't belong to the ranks of the Temple officials. They were faithful children of Israel who kept their eyes fixed on God and did not lost sight of God's gracious action on Israel's behalf. Their training came from God. Luke tells us that Simeon was led by the Spirit; Anna "never left the Temple but worshiped night and day with fasting and prayer." Both represent the best of Israel, both had "advanced degrees" in prayer and vigilance and hope. They suggest to us that recognizing God's ways comes through fidelity and prayerful vigilance. Their devotion to God made them available and open to God's revelation.
Simeon correctly predicts that some will follow Christ and others will turn against him. This is the story of the rest of Luke's gospel. The choice to follow, or reject Jesus' way is ours to make. The rejection of Mary's son would be a sword to pierce her heart.
Anna is another example of God's care for the least. She is a widow and so dependent on family and others for her well being; she is a woman in a male-oriented society and she is aged. Her vulnerabilities are succinctly spelled out in Luke's description of her. But so is her greatness noted. She persists in her trust of God and is the first to proclaim God's redemption. "She gave thanks to God and spoke about the child to all who were awaiting the redemption of Jerusalem."
Pope Francis has reminded each of us of our role as evangelists (cf. below.) Anna might be called "the patron saint of evangelists." What is our role as evangelists? Anna shows us: we are to be persistent in prayer, despite the difficulties, trusting in God's goodness and, when the opportunity arises, speak a word of enlightenment, just as Anna did.
One of the prime teachings in the letter to the Hebrews is of Christ's high priesthood. This teaching is coupled with the message about Jesus' willing self-sacrifice on our behalf. We can see why this selection from Hebrews was chosen for the feast we are celebrating – Jesus' presentation in the Temple by his parents. Jesus was not born into the priestly tribe of Levi, but he is still called a priest. Hebrews teaches that he is both the perfect sacrifice for our sins and the priest who offered himself as that sacrifice. Christ, our priest, has saved us by his death, resurrections and exaltation. Christ has made forgiveness possible and given us both access to God and hope for eternal life.
On this feast Hebrews speaks to why Christ became human. From the perspective of this letter, the devil has power over death. To free us from that power and our fear of death, Christ became one of us. As a human he became our "merciful and faithful high priest," as well as the sacrifice "to expiate the sins of the people." Today, our high priest has entered the Temple and the two elderly prophets, who recognize him, announce his arrival and the promise he holds out for us.
Click here for a link to this Sunday's readings:
http://www.usccb.org/bible/readings/020220.cfm