Dear Preachers: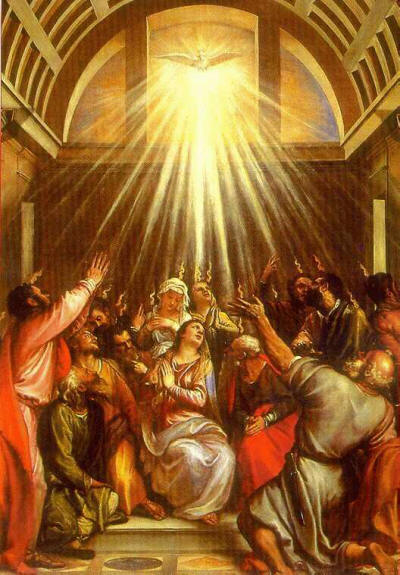 I'm confused. And today's Scripture readings don't seem to help! How do the disciples first receive the Holy Spirit? Was it the way Luke describes it in our Acts reading, when they were gathered "all in one place" and a noise like a strong and driving wind came through the house and the fire-like tongues rested on each of them? Or, did it happen the way John describes it with Jesus' entering the room, despite the locked doors, bidding the disciples, "Peace be with you," and then breathing the Spirit upon them? Why is such an important event like the life-giving, faith-establishing gift of the Spirit described in such diverse ways?
The arrival of the Spirit should be no surprise to people familiar with biblical literature. The Hebrew word for spirit, "ruah" meaning, wind, breath, or a movement of air, appears over 90 times in the Hebrew Scriptures. It is the principle of life and power and by means of the Spirit God manifests God's power and intentions. At the beginning of Genesis it is through the "spirit of God," sweeping over the chaos and the waters, that God begins the work of creation.
In the Hebrew texts the Spirit is given for only a period of time (Wisdom 15:16). Those to whom the Spirit is given are endowed with specific gifts so as to accomplish God's purposes. So, for example, Solomon is gifted by the Spirit with wisdom (Wisdom 7: 7); Israel's leaders are empowered by God's Spirit and the prophets, possessed by the Spirit, speak on God's behalf (Isaiah 61:1 and Luke 4:18).
The New Testament shows a continuation of the former representations of the Spirit. The Greek word for Spirit is "pneuma" and has a similar meaning to the Hebrew "ruah." Luke's Gospel and Acts focus on the work of the Spirit. The Spirit is the thread that weaves his two-volume work together. At the end of the Gospel Jesus gives instruction to the disciples that they must stay in Jerusalem until they receive "the promise of the Father" (24:49).
Luke specifies Pentecost as the day the Spirit was given. Originally it was a harvest feast of thanksgiving; then it became associated with the gift of the law at Sinai (Deuteronomy 16:9-21). On Pentecost the desert community at Qumran welcomed new members, who professed their desire to be a people in covenant with God. Luke places the gift of the Spirit then on a traditional day of thanksgiving, moral formation, new commitment and rededication.
God's Spirit was with the people of Israel as they journeyed across the desert and struggled against pagan religions to arrive at the promise land. Starting with his baptism the Spirit empowered and sustained Jesus through his temptations in the desert, ministry, suffering, death and resurrection. That same Spirit is now the gift giving to the community. Today we observe the first fruits of the Spirit as the disciples immediately break out of their confines to preach to a crowd that represents the multi-lingual world they will go out to preach to. The Acts of the Apostles will reveal how the early church evolved from a small community of Jesus' Jewish followers into a Christian community expressing his love, peace, forgiveness and healing to the world.
So, if I put aside my penchant to organize and regiment times and dates on this feast of Pentecost, and listen to what Luke teaches me, then I hear and learn the following: Our faith is not something we need to hoard and treat as a fragile heirloom. Instead, we have the breathing, energizing, encouraging and border-busting life of God with us as we gather in prayer and discern how we are to be church in the world.
We face a world of unbelief, cynicism, disillusionment and spiritual depletion. All complicated these days by the pandemic. We could hunker down and "keep the faith," or we could do what Luke describes that first community did: step confidently out into the world and speak to the confused crowd we encounter. During these "lockdown" days of the pandemic we may have to "step out into the world" in creative ways, assisted by modern forms of connecting and communicating: Zoom conferences, email, Face Book, phone, etc. Even being locked down doesn't have to limit opportunities to let the Spirit speak words of support, comfort, good cheer, forgiveness and even challenge through us. As I Corinthians tells us today, "To each individual the manifestation of the Spirit is given for some benefit." There it is...the Spirit at work in each of us for the benefit of others.
We know our limitations and can predict, we think, how we will fall short in the witnessing profession to which the Spirit has called us. We are not sure where we are being sent, but this feast of harvest assures us we have God's creative and overflowing grace with us. Luke describes it as a powerful wind and a flame. If we can trust Luke, that should embolden us when we are asked about what we believe or, when called on to show our faith by our actions.
If we can't pin down, or box up the Spirit, then how can we expect any neat and "one-size-fits-all" description of Jesus' gift of his Spirit to his followers? We now turn to John's alternate rendering of the gift of the Spirit.
John's gospel began with the revelation to the Baptist, about the one "on whom you see the Spirit descend and remain..." (1:33). Towards the end of the gospel, on Easter Sunday night, John tells us how the risen Christ breathes on the disciples and gives them the Spirit. The intervening stories in John have many allusions to the Spirit. For example, in Jesus' encounter with the Samaritan woman, Jesus describes the Spirit as "living water" which will well up in a person with the gift of eternal life. Later, during the Last Supper, Jesus promised the Spirit's coming four times. He used the Greek word "parakletos" to describe the Spirit – a word which can mean comforter and advocate.
John connects the suffering, death and resurrection of Jesus in a moment he calls "the hour." So, when Jesus breathes his creative Spirit on the disciples that Easter evening and commissions them to forgive sins, the event is not separated from that "hour"; the glory is not apart from the suffering. The community's freeing message of forgiveness, empowered by Jesus' Spirit, will not be without cost to the community–personal sacrifice will come because of the opposition of an unforgiving world.
When breathing stops, we die. No one has to remind us of that during these days when ventilators can mean the difference between life and death. Jesus' Spirit remains with his community as its breathing. He will not rescind on the gift of his life-giving breath. Just as God breathed breath into Adam to make him a "living being," on Pentecost that same Spirit gave birth to a breathing and forgiving community. Now, the new life source of the Spirit enables us to continue Jesus' ministry of compassion and forgiveness.
Many years after this gospel was written the church used this text as a source for the Sacrament of Reconciliation. But the first Christians probably applied it to Baptism: to the catechumens who accepted the gospel, baptism was given. To those who did not, baptism was not conferred.
Just as we respected Luke's privilege to tell the Pentecost story in the context of his gospel narrative and the message he wanted to confer to his church, so we also allow John tell the story in his way for the specific needs of his community. Jesus is no longer physically present with us, but he has not withdrawn to some distant mountain in the cosmos, somewhere waiting for his time to return. Both narratives tell us today that Jesus is fully with us because his Spirit dwells in us – as individuals and as a church community.
We have to believe that on this Pentecost Jesus will breathe on us anew, because these days we are like distant runners gasping for air. Who knows how far we still have to go? We need his Spirit to finish the course.
Click here for a link to this Sunday's readings:
http://cms.usccb.org/bible/readings/053120-day.cfm
There are different kinds of spiritual gifts. . .there are different forms of service. . .there are different workings. . .To each individual, manifestation of the Spirit is given for some benefit.
--1 Corinthians 12:4-7
Difference is a gift of the Holy Spirit. Think about that for a moment. Are you comfortable with people who are different than you? When you meet someone who is different from you, do you take the time to hear and understand them?
We live in a society that often promotes uniformity over diversity, even though America is probably the most diverse country in the world. Pope Francis states, "We need to communicate with each other, to discover the gifts of each person, to promote that which unites us, and to regard our differences as an opportunity to grow in mutual respect. Patience and trust are called for in such dialogue, permitting individuals, families and communities to hand on the values of their own culture and welcome the good which comes from others' experiences" (6/6/15). Imagine, if you will, creating a world where each person could fully develop the gifts given to them by the Holy Spirit.
What would be the necessary components of such a world? It may seem like the list would be endless but we, Catholics, have a good tool in our hands to use. The "tool" is the social teachings of the Church. These teachings are the fertile soil where each unique and different human being can flower. We begin with the life and dignity of the human person; we call our society to family, community, and participation; we recognize that human rights should be protected and that we have duties and responsibilities to one another, to our families, and to the larger society; we recognize that as a society we are only as strong as our weakest link and that our basic moral test is how our most vulnerable members are faring; we are taught the economy must serve people, not the other way around; that people have the right to productive work, to decent and fair wages, to joining unions, to private property, and to economic initiative; that loving our neighbor has a global dimension where we stand together in solidarity pursuing justice and peace for all; and, we are reminded that we show our respect for the Creator by our stewardship of creation.
Who knows what gift has been given to someone who is different than you? Find out by living the social teachings of the Church.
---Barbara Molinari Quinby, MPS
Director of Social Justice Ministries
Holy Name of Jesus Cathedral, Raleigh, NC

Mini-reflections on the Sunday scripture readings designed for persons on the run. "Faith Book" is also brief enough to be posted in the Sunday parish bulletins people take home.
From today's Acts of the Apostles reading:
And they were filled with the Holy Spirit
and began to speak in different tongues
as the Spirit enabled them to proclaim.
Reflection:
Jesus is no longer physically present with us, but he has not withdrawn to some distant mountain in the cosmos, waiting for his time to return. The scriptures today remind us that Jesus is fully with us because his Spirit dwells in us – as individuals and as a church community. Empowered by the Spirit we "proclaim" our faith in Christ by our words and actions.
So we ask ourselves:
How is my faith affected by the presence of the Holy Spirit in my life?
With the Holy Spirit, how can I be a more public witness to my faith?
POSTCARDS TO DEATH ROW INMATES
"One has to strongly affirm that condemnation to the death penalty is an inhuman measure that humiliates personal dignity, in whatever form it is carried out."
---Pope Francis
This is a particularly vulnerable time for state and federal prisoners. Conditions, even without the pandemic, are awful in our prisons. Imagine what it is like now with the virus spreading through the close and unhealthy prison settings. I invite you to write a postcard to one or more of the inmates listed below to let them know we have not forgotten them. If the inmate responds you might consider becoming pen pals.
Please write to:
Rodney Taylor #0472274 (On death row since 10/23/98)
Jeffery Myer #0280127 (2/4/99)
Ted Prevatte #0330136 (2/22/92)
----Central Prison, 4285 Mail Service Center, Raleigh, NC 27699-4285

For more information on the Catholic position on the death penalty go to the Catholic Mobilizing Network:

http://catholicsmobilizing.org/resources/cacp/

On this page you can sign "The National Catholic Pledge to End the Death Penalty." Also, check the interfaith page for People of Faith Against the Death Penalty:

http://www.pfadp.org/

"First Impressions"

is a service to preachers and those wishing to prepare for Sunday worship. It is sponsored by the Dominican Friars. If you would like "First Impressions" sent weekly to a friend, send a note to fr. John Boll, OP at jboll@opsouth.org.

If you would like to support this ministry, please send tax deductible contributions to fr. Jude Siciliano, O.P.

St. Albert Priory, 3150 Vince Hagan Drive, Irving, Texas 75062-4736

Make checks payable to: Dominican Friars. Or, go to our webpage to make an online donation:

https://www.PreacherExchange.com/donations.htm

1. We have compiled Four CDS for sale:
Individual CDs for each Liturgical Year, A, B or C
One combined CD for "Liturgical Years A, B and C."
If you are a preacher, lead a Lectionary-based scripture group, or are a member of a liturgical team, these CDs will be helpful in your preparation process. Individual worshipers report they also use these reflections as they prepare for Sunday liturgy.

You can order the CDs by going to our webpage:

www.PreacherExchange.com http://www.PreacherExchange.comand clicking on the "First Impressions" CD link on the left.

2. "Homilías Dominicales" —These Spanish reflections on the Sunday and daily scriptures are written by Dominican sisters and friars. If you or a friend would like to receive these reflections drop a note to fr. John Boll, O.P. at

Jboll@opsouth.org.

3. Our webpage: www.PreacherExchange.com - Where you will find "Preachers' Exchange," which includes "First Impressions" and "Homilías Dominicales," as well as articles, book reviews, daily homilies and other material pertinent to preaching.

4. "First Impressions" is a service to preachers and those wishing to prepare for Sunday worship. It is sponsored by the Dominican Friars. If you would like "First Impressions" sent weekly to a friend, send a note to fr. John Boll, OP at the above email address.
---
Thank you and blessings on your preaching,
fr. Jude Siciliano, O.P.

St. Albert the Great Priory of Texas
3150 Vince Hagan Drive
Irving, Texas 75062-4736
972-438-1626
---
Click on a link button below to view the reflection indicated.
(The newest items are always listed first.)