Dear Preachers:
Many of us will be preaching on this day. In about many dioceses this feast will be celebrated on Sunday, May 24 (the Seventh Sunday of Easter). So here are some thoughts to get us started, no matter when we celebrate and preach.
The Acts of the Apostles starts with an injunction by the risen Christ to wait. I wonder if the activists in that early community weren't frustrated by his directive. You can see that they were ready to get on with things – and they would have gotten it all wrong. It's their question that reveals their mis-direction, "Lord are you at this time going to restore the kingdom of Israel?" Of course, they mean a purely external, politically and militarily dominant kingdom of Israel. No, they have to wait for the baptism with the Holy Spirit, then they will know how and where to be Jesus' witnesses.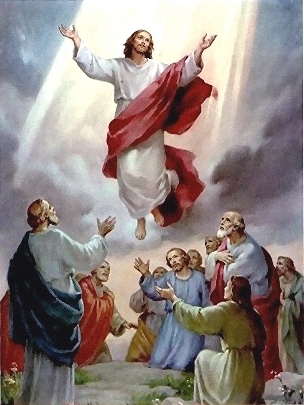 He wants them to break free of their limited view, their biases and tendency to misinterpret the meaning of his life. What he also wants is that they witness to him far beyond the boundaries of Israel. They will, he says, have to be, "my witnesses in Jerusalem, throughout Judea and Samaria and to the ends of the earth." For all this they will need help, so they must acknowledge their dependence on God and wait for God's pleasure to pour that help out on them.
We are not good at waiting. We tire out if we do not get quick results. Waiting on lines, for lights, for our children to come home from the dance, with our aging parents at the doctor's office. Waiting is not what we do well particularly these pandemic days when so many are dying, we don't have a vaccine, we are worried about our loved ones and the future of our world. Why is waiting so frustrating? Because it means someone else or some other power is in charge, not us. And being out of control and subject to other forces reminds us of our finiteness, and vulnerability.
Jesus tells the disciples to, "Wait for the promise of the Father." They cannot go off spreading the news of his resurrection on their own. They are a small, fearful community that has no power on its own and, as the Gospels showed, they have a tendency to get Jesus' message all wrong. What' s more, they flee when things get tough. On their own they will be misguided, perhaps engage in ways that are not of Jesus. Haven't we church people made some pretty big mistakes in our history about his message and ways? There are the accounts of our promoting our religion by forced baptisms and by trampling over the dignity and cultures of whole civilizations. We, like the original disciples, have been cowardly when courage was required, even merciless when love and compassion was what Jesus would have wanted.
So the disciples and we must "hold our horses," restrain ourselves and wait for God' promise to be fulfilled. What's more, the fulfillment will come at God's timing, not our own. We are action oriented aren't we? We have our projects and plans, we want to get on with things. Even when our plans and intentions are noble and serve a good purpose, how does God figure into them? Do we know? Have we asked? Do we wait for an answer, some direction? Maybe we have to "hurry up and wait." "Don't just do something, stand there!" Waiting on the Spirit is a reversal of our usual mode of operating.
Even as Christ talks to the disciples about their mission to the "ends of the earth," Luke is making sure that we do not forget what had happened in Jerusalem. We recall the Emmaus story (3rd Sunday of Easter) and the failed and frustrated hopes of the disciples on the road. "We had hoped," they tell the Stranger. What they had hoped for was their version of triumph and success for Jesus – and themselves. But Jesus had to remind them, by interpreting the scriptures, "beginning with Moses and all the prophets," that suffering was to be part of his life and mission. Here in today's section of Acts, Luke reminds us again of that link between Jesus' mission and suffering, when he says that Christ "presented himself alive to them by many proofs AFTER he had suffered." Jesus, and now the disciples, cannot escape the suffering that comes with fidelity to the message. Even in the presence of the risen Lord they are not far from the reality of suffering. So, for the disciples, who will have to live out and proclaim the Good News, suffering will be the price they and we pay for our belief and for the mission.
We need to wait for the gift of the Spirit who sustains us when the going gets rough. We will be witnesses to Jesus by the integrity of our lives and the commitment to his ways. If we are faithful to what his Spirit teaches us at work, and with our families, in school and in the political arena, etc., there will be suffering. Or maybe, in some ways, worse, we will just be ignored, discounted as unrealistic and dismissed as impossible idealists. We will need the gift of the Spirit and the wait is worth it.
Thomas Troeger, the Presbyterian preacher and homiletician, in a sermon preached on Ascension Day, recalls the frustration of the disciples and the early church in their waiting and longing for the fulfillment of the reign of God. He says we too know that frustration. After having given our lives over to Jesus Christ, we experience not triumph, but a mixture of triumph and defeat. Has anything really changed? What difference does our faith make? "When will things come together in some whole and enduring pattern?" he wonders. And then Troeger quotes Yeats' lines to describe our world:
"Things fall apart; the center cannot hold;
Mere anarchy is loosed upon the world,
the blood dimmed tide is loosed, and everywhere
the ceremony of innocence is drowned;
the best lack all conviction, while the worst
are full of passionate intensity." (from, "The Second Coming")
We are wearied by our waiting. With Yeats we voice our longing, "Surely some revelation is at hand; Surely the Second Coming is at hand." It's a lament, a prayer of need and dependence. We need help that we cannot provide for ourselves. Troeger invites us to hear again what the early church heard in its anguish and yearning, "It is not for you to know the times or seasons that the Father has established by [God's] own authority." How difficult it is for us to hear these words surrounded, as we are, by the kind of events we see and hear on the evening news, or read on the internet. What we have, Troeger reminds us, is the belief that Christ reigns and will send the Holy Spirit to help us live as we must. We cannot force the hand of this Spirit, it is a gift constantly coming upon us. And one that still requires waiting.
(Thomas' Troeger's sermon was preached in 1982 and is reprinted in, SEASONS OF PREACHING, pages 158-9.)
Click here for a link to this Sunday's readings:
http://cms.usccb.org/bible/readings/052420-ascension.cfm

Mini-reflections on the Sunday scripture readings designed for persons on the run. "Faith Book" is also brief enough to be posted in the Sunday parish bulletins people take home.
From today's reading from the Acts of the Apostles"
While meeting with the apostles,
Jesus enjoined them not to depart from Jerusalem
but to wait for
"The promise of the Father about which you heard me speak."
Reflection:
Jesus has gifted us with the same powerful Spirit that animated and sustained him, not only through his preaching and healing ministry, but through his long suffering and death. Thanks to the Spirit, we are called and empowered to be modern witnesses to the living Christ, who is reaching out in a new age to do through us, what he did in his lifetime–preach the gospel, heal the sick and bring people back to God.
So we ask ourselves:
What gifts has God given me to use in the service of Jesus' gospel?
How am I exercising these gifts now?
POSTCARDS TO DEATH ROW INMATES
"One has to strongly affirm that condemnation to the death penalty is an inhuman measure that humiliates personal dignity, in whatever form it is carried out."
---Pope Francis
This is a particularly vulnerable time for state and federal prisoners. Conditions, even without the pandemic, are awful in our prisons. Imagine what it is like now with the virus spreading through the close and unhealthy prison settings. I invite you to write a postcard to one or more of the inmates listed below to let them know we have not forgotten them. If the inmate responds you might consider becoming pen pals.
Please write to:
Johnny Hyde #0542024 (On death row since 7/23/98)
Patrick Steen #0388640 (8/28/98)
Robert Brewington #0584095 (9/3/98)
----Central Prison, 4285 Mail Service Center, Raleigh, NC 27699-4285

For more information on the Catholic position on the death penalty go to the Catholic Mobilizing Network:

http://catholicsmobilizing.org/resources/cacp/

On this page you can sign "The National Catholic Pledge to End the Death Penalty." Also, check the interfaith page for People of Faith Against the Death Penalty: http://www.pfadp.org/

"First Impressions"

is a service to preachers and those wishing to prepare for Sunday worship. It is sponsored by the Dominican Friars. If you would like "First Impressions" sent weekly to a friend, send a note to fr. John Boll, OP at jboll@opsouth.org.

If you would like to support this ministry, please send tax deductible contributions to fr. Jude Siciliano, O.P.

St. Albert Priory, 3150 Vince Hagan Drive, Irving, Texas 75062-4736

Make checks payable to: Dominican Friars. Or, go to our webpage to make an online donation:

https://www.PreacherExchange.com/donations.htm

1. We have compiled Four CDS for sale:
Individual CDs for each Liturgical Year, A, B or C
One combined CD for "Liturgical Years A, B and C."
If you are a preacher, lead a Lectionary-based scripture group, or are a member of a liturgical team, these CDs will be helpful in your preparation process. Individual worshipers report they also use these reflections as they prepare for Sunday liturgy.

You can order the CDs by going to our webpage:

www.PreacherExchange.com and clicking on the "First Impressions" CD link on the left.

2. "Homilías Dominicales" —These Spanish reflections on the Sunday and daily scriptures are written by Dominican sisters and friars. If you or a friend would like to receive these reflections drop a note to fr. John Boll, O.P. at Jboll@opsouth.org.

3. Our webpage: www.PreacherExchange.org - http://www.PreacherExchange.orgWhere you will find "Preachers' Exchange," which includes "First Impressions" and "Homilías Dominicales," as well as articles, book reviews, daily homilies and other material pertinent to preaching.

4. "First Impressions" is a service to preachers and those wishing to prepare for Sunday worship. It is sponsored by the Dominican Friars. If you would like "First Impressions" sent weekly to a friend, send a note to fr. John Boll, OP at the above email address.
---
Thank you and blessings on your preaching,
fr. Jude Siciliano, O.P.

St. Albert the Great Priory of Texas
3150 Vince Hagan Drive
Irving, Texas 75062-4736
972-438-1626
---
Click on a link button below to view the reflection indicated.
(The newest items are always listed first.)