Provisions for the Journey to Bethlehem
Brief reflections on the week's scripture readings.
Third Week of Easter - 2020.
---
---
Sunday, April 26: He said to them, "Oh, how foolish you are! How slow of heart to believe all that the prophets spoke! Was it not necessary that the Christ should suffer these things and enter into his glory?" Then beginning with Moses and all the prophets, he interpreted to them what referred to him in all the Scriptures. (Lk 24:13-35)
I assumed someone at some point must have compiled a list of all the references Jesus talks about here -- and I was right! Lots of people have taken a shot at this. Maybe we can put this on our list of things to do if the lockdown continues much longer! A quick internet search produces results ranging from seven references in the Old Testament to some 574 verses identified by the scholar, J. Barton Payne! My guess is that it's somewhere in between. But really, a precise number, while very interesting, is not the point. I need to ask myself, "How am I being foolish right now? Where am I missing the presence of the Risen Christ in the scripture being written in my life today?"
Today's Provision: Blessed are those who have not seen but believe. You'll notice a lot of references in the readings this week about signs: the feeding of the 5,000, the healings performed by Phillip in Samaria, the dramatic sign given to Saul, Peter raising Dorcas from the dead. The crowd even asks Jesus, "What sign can you do, that we may see and believe in you?" (This, by the way, is right after the feeding of the 5,000. This group is a tough sell!) I'm reminded of the quote attributed to St. Augustine: "Faith is to believe what we do not see; and the reward of this faith is to see what we believe." The images and reports of suffering we see these days can make it hard for us. We pray, 'Lord, give the world a sign so that all might see and believe in you!' But is this really faith? If you are struggling, don't think God won't hear your prayers or accept your doubts. Deep struggle in prayer and faith can lead to great spiritual riches. Remember Jesus's words: "Don't be afraid." Take time to look for signs of love and redemption.
Monday, April 27: Then they instigated some men to say, "We have heard him speaking blasphemous words against Moses and God." They stirred up the people, the elders, and the scribes…and presented false witnesses… (Acts 6: 8-15)
Presenting false witness? Stirring up the people? Can you imagine! It sounds all too familiar, doesn't it? And it happens everywhere, no matter what the political party, ideology, no matter what "side" you are on. Inciting people's fears and spreading falsehoods and conspiracies seem par for the course now and is even more dangerous due to the anonymity and impunity offered by the internet. Let's take a stand against fear-mongering and lies, and stay focused on Christ's legacy of love. We are called to use our God-given consciences and intelligence to discern and ascertain the truth in light of Christ's words and life. Remember, Jesus could not abide hypocrites. Let's try to stay above the fray with messages of love and hope.
Today's Provision: Be discerning. Some might remember the words of the great song by Marvin Gaye, "Heard it Through the Grapevine: "People say, 'believe half of what you see, son, and none of what you hear.'" I'm going to post these words on my computer to warn me each time I open my newsfeed! "I can't help being confused," so I need to listen for love. Where and from whom do I hear messages of compassion? It's in the stories of hospital staffs, EMTs, caregivers, and nonprofits working to help the poor. It's from the medical experts who are honest about not having all the answers. It's not from the doomsdayers or the naysayers. Be discerning. Look for truth in love.
Tuesday, April 28: Then (Stephen) fell to his knees and cried out in a loud voice, "Lord, do not hold this sin against them"; and when he said this, he fell asleep. Now Saul was consenting to his execution. (Acts 7:51-8:1a)
I can't remember ever hearing a sermon preached about what a bad dude Saul really was. Here he is overseeing a murder. Later, we hear about him dragging men and women out of their homes and "breathing murderous threats."
So much for the advice from his revered teacher, Gamaliel, who said to leave Christ's disciples alone! Saul thinks he has it all figured out. He is doing God's work. He has to be struck blind in order for him to realize his blindness.
Today's Provision: Question your assumptions and don't give up. I sometimes think I have it all figured out. I like to think I am doing God's will, but I have been knocked off my high horse more than once and reminded of how blind I really am. There are important lessons to learn from Saul's conversion story: one, pay attention to wisdom figures who admit they don't have all the answers, don't assume you have everything figured out, and don't believe anyone who says they do. Two, even if you have been a bad dude up to this point, God has not given up on you. God may teach you in some dramatic way what you'll need to suffer for the sake of Christ's name, but you are NEVER a lost cause in God's eyes. And third, don't beat yourself up about the past. In some of his letters, Paul admits to his sins and how he persecuted Christ's disciples. He likely followed the Jewish rituals of atonement to make amends for his sins. But he shares a great line about his conversion: "By the grace of God, I am what I am." He does not let the past keep him from listening to and following God's will. Don't ever give up on yourself. God doesn't.
Wednesday, April 29: "And this is the will of the one who sent me that I should not lose anything of what he gave me, but that I should raise it on the last day." (Jn 35-40)
Scholars say the "anything" and the "it" Jesus refers to here are likely references to his disciples. There are other instances in John's Gospel that support this, and refers to Christian disciples throughout the ages. But let's think about this from another perspective: What are the things God has given you? It is God's will you should not lose or squander the gifts, the blessings, even the trials you have received. We are all called in a unique way to treasure and protect the life in Christ we have been given.
Today's Provision: Recognize the gifts God has given you. Pray today God will enlighten you to recognize and use your uniqueness to further the Kingdom. "When I reach the next world, God will not ask me, 'Why were you not Moses?' Instead, he will ask me, 'Why were you not Zusya?'"(Rabbi Reb Zusya)
Thursday, April 30: Philip ran up and heard him reading Isaiah the prophet and said, "Do you understand what you are reading?" He replied, "How can I, unless someone instructs me?" (Acts 8:26-40)
This scene points out a pertinent message in light of what we talked about Monday -- false witness, conspiracy theories, and the like. It becomes more troublesome when it is the Word of God being interpreted. Let's put our trust in good teachers who live what they teach, who are not afraid of questions and challenges and are open to different interpretations. Good teachers don't have pat answers to difficult issues and allow for time, prayer, and discernment. They guide us and allow us to learn lessons for ourselves. In the realm of faith, what we "know" because of our experience of God may not always be as easy to translate as was Phillip's task today. Instruct others through your life and by the way in which you share love.
Today's Provision: Where are your "classrooms?" We hear Phillip got into the chariot with the Egyptian eunuch to instruct him. Where are your classrooms? What are the settings and situations that afford you the opportunity to instruct others by the way you live? Of course for parents, that is in the home (and in the car, too—I don't imagine Phillip yelled and cursed at the chariot driver in the other lane who passed them too fast J.) Let's make sure our children observe us practicing what we preach, living our lives in light of the commandments and the gospels. Every situation and place in which we find ourselves has the potential for being a classroom. Take time to think today: where am I being an effective teacher of Jesus's lessons of love? Where might I do more or better to share the lessons of our greatest teacher?
Friday, May 1: The Jews quarreled among themselves, saying, "How can this man give us his Flesh to eat?" Jesus said…"Whoever eats my Flesh and drinks my Blood has eternal life, and I will raise him on the last day." (Jn 6:52-59)
In the next passage, we hear some disciples object: "This saying is hard; who can accept it?" We find out many of them turn away and go back to their former way of life. What sayings of Jesus do you find hard to accept?
Today's Provision: Reflect on how you are challenged by Jesus. I imagine the "love your enemies" teaching ranks up there as being hard to accept. Forgiving the same person seventy times seven might be high on the list too. We probably don't like to be reminded that the speck we see in our brother's eye is nothing compared to the plank in our own, and we might squirm a bit when told we will receive back what we measure out to others. I used to write a lot about what makes us squirm in our seats. What does that for you now? I am thinking about old wine in new wine skins in light of what's happening in our world. Lots of people want to go back to the old wineskins, but I believe the pandemic has, or at least, should make new wine of us. The old wine is bitter now, unpalatable. We must come up with new ways for a new life – new wine in new wineskins -- if we are to move forward from this crisis. This will be hard. Spend time in prayer today reflecting on how Jesus challenges you. Will you leave too? Or will you follow?
Saturday, May 2: Jesus said, "Do you also want to leave?" Simon Peter answered, "Master, to whom shall we go? You have the words of everlasting life." (Jn 6: 60-69)
Peter is truly converted. He cannot turn away. That doesn't keep him making mistakes and even denying Jesus, but he does not despair. He seeks life for his soul in God's mercy because he knows there is nowhere else he can go. And, there is no better place he can be but by Jesus's side.
Today's Provision: Pray for the grace to be unable to turn away. "I have no doubt that the aim and solution of life is the acceptance of God…I imagine God speaks to me and says simply—'I keep calling to you and you do not come,' and I answer quite naturally – 'I couldn't, until I knew there was nowhere else to go."" (Florida Scott-Maxwell, from The Measure of My Days.)
---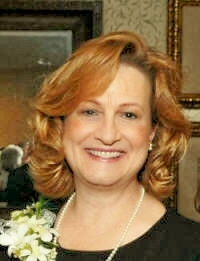 Elaine Ireland has a passion for working with parents and anyone who struggles to maintain a sense of God's love and peace amid the day-to-day challenges of life. She has a master's degree in Spiritual and Pastoral Care from the Pastoral Counseling department at Loyola, Maryland, with a focus on developmental psychology and spiritual guidance. Rooted in Ignatian spirituality, she is a writer, retreat and workshop leader, and presenter on topics such as pastoral parenting, "letting go," and finding the spiritual in the midst of everyday life. She lives in Ellicott City, Maryland with her husband, Mark and children, David and Maggie.
---
We hope you enjoy "Come and See!" and we welcome your input. Please contact Elaine Ireland at
ehireland@loyola.edu
with questions, comments, and responses.
---
© 2009 - 2018, Elaine H. Ireland - Images@FaithClipart.com
---
Up to 6 weeks of "Come and See!" reflections are saved here.
The latest is always listed first.