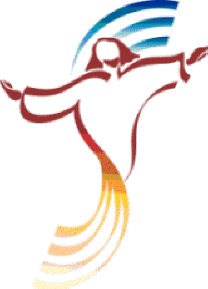 Provisions for the
Journey to Jerusalem
Brief reflections on the week's Scripture readings
The FOURTH Week of Lent, 2021
---
(Note: I copy the graphics and format for these reflections from year to year. This is what I had written to begin our reflections last year at this time:
"We pray this week for all people impacted by the COVID-19 pandemic:
The souls who have lost their lives, their families and friends,
but also for the millions who will suffer from the loss of income and security.
Find ways to reach out in your local neighborhood and community. Be a blessing to others."
Our prayers remain the same.
---
Sunday, March 14: "Not as man sees does God see, because man sees the appearance but the LORD looks into the heart." (1 Sm 16:1, 6-7, 10-13)
This fits quite nicely with this year's theme of metanoia. When the Lord looks into your heart, what does he see?
Today's Provision: What's in your heart? It's not about "What's in your wallet?" that counts. This idea of God seeing and knowing our hearts so clearly can be uncomfortable, but there's no getting around it so you might as well ask God what he sees. Like the story of the rich young man (Mk 10), Jesus "looks at him and loves him," but sees what stands in the way—his riches. Ask Jesus to do the same for you. Ask him to tell you what gets in your way, what things in your heart need to change in order for you to follow him on the path to eternal life.
Monday, March 15: "Thus says the LORD: Lo, I am about to create new heavens and a new earth; the things of the past shall not be remembered or come to mind. Instead, there shall always be rejoicing and happiness in what I create; For I create Jerusalem to be a joy and its people to be a delight…" (Is 65:17-21)
Well, Lord, we could sure as heck use a new earth right about now! And while you're at it, can you do something about its people — including me?! It would be nice to think about us as being a delight, both for you and for each other!
"In the Genesis account God commands Adam and Eve to be fruitful. Humankind has a mandate to change, to build, to master creation in the positive sense of creating from it and with it. So what is to come doesn't depend on some unseen mechanism, a future in which humanity is a passive spectator. No: we're protagonists, we're—if I can stretch the word—co-creators. When the Lord told us to go forth and multiply, to master the earth, he's saying: Be the creators of your future. From this crisis we can come out better or worse. We can slide backward, or we can create something new. For now, what we need is the chance to change, to make space for the new thing we need." (Pope Francis. Let Us Dream: The Path to a Better Future, p. 4).
Today's Provision: Make something new! What's that nagging thing you've wanted to change that will make your life and the lives of others better? Maybe you made a New Year's resolution that has fallen by the wayside. No worries! Make it smaller, doable, and make a new resolution EACH day, even if you failed yesterday. Each day is a new chance!
Tuesday, March 16: Now there is in Jerusalem at the Sheep Gate a pool called in Hebrew Bethesda, with five porticoes. In these lay a large number of ill, blind, lame, and crippled. One man was there who had been ill for thirty-eight years. When Jesus saw him lying there…he said to him, "Do you want to be well?" (Jn 5:1-16)
Thirty-eight years! That's at least three years longer that a man's average lifespan at that time! And unlike the question Jesus asks others who approach him for healing — "What would you have me do for you?" — he asks this man (who has not said anything to Jesus) a strange question: "Do you want to be well?" There's an important lesson here. Many people who are ailing in body, mind, or spirit are frightened by what might await them beyond their illness. They may have their very identities tied to their lot in life and may not be ready for what healing means for them. We can't assume what we desire for our lives is what others desire. What is healing to us may not be healing to another.
Today's Provision—Recognizing the other's need: We're bombarded by needs, our own and those of others. It may be as obvious as people on the street begging for money or as subtle as our spouse, child, co-worker, or selves acting out in ways that indicate an underlying emotional or psychological need. We can't respond to every need we encounter or we will either burn out or enable others to continue unhealthy patterns. But it's important we recognize and respect the validity of the other's need. This is part of what Jesus means when he talks about not judging. Today, ask the Spirit for guidance when you encounter need. If you are not inclined to meet that need, say a prayer that the other might find healing, whatever that means for them today.
Wednesday, March 17: "Nor does the Father judge anyone, but he has given all judgment to the Son…And he gave him power to exercise judgment, because he is the Son of Man." (Jn 5:17-30)
I had to do my homework on this one. I'm fascinated with the idea that "God has given" the power of judgment to the second person of the Trinity, the one who has experienced what it means to be human. Without a big theological discourse about the term "Son of Man," and knowing the Father and Jesus are one, still it's comforting to think about having a "high priest" who knows our human condition (Heb 4:14-16), and that "by personal experience of man's temptations and frailties; by knowing every palliation of our sins, every extenuation of our failures, every aggravation of our weakness; by gazing through human eyes with human consciousness upon our mysterious destiny, he is competent to judge…We are being judged by Christ (our brother), not by impersonal law."
Today's Provision: Give thanks for God's mercy! It's easy to get bogged down focusing too much on sinfulness -- our individual sins and society's – and not enough on God's mercy. Let's give thanks today that our brother, Jesus, understands the trials and temptations of being human and looks upon us with compassionate, forgiving eyes.
Thursday, March 18:"You search the Scriptures, because you think you have eternal life through them. (Jn 5:31-47)
As a child I, like many Catholics my age, was not encouraged to read Scripture. Surely, the introduction of Scripture in my life has made my faith and my prayer so rich and more complete. So what is Jesus saying in this quote? Reading Scripture, going to church, following the rules and rituals of our chosen practice are important, but if these things do not lead to a change in how we live, a change in our hearts, we've missed the entire point. If our religious practice or church become the focus of our worship, we are like the Israelites at Mt. Sinai: "(they) adored a molten image; they exchanged their glory for the image of a grass-eating bullock." (Ps 106:19-20).
Today's provision: Make it real. Are there any "grass-eating bullocks" in your life? Idols or gods like we talked about on Sunday that get in your way of putting your faith into action? Peer acceptance? Religious rituals? Your calendar? Your checkbook? Reading scripture is always life-giving, but do you apply the lessons to your own life? Let the words of scripture move you to change your hearts and call you to action!
Friday, March 19: "Joseph, son of David, do not be afraid to take Mary your wife into your home. For it is through the Holy Spirit that this child has been conceived in her. She will bear a son and you are to name him Jesus…" When Joseph awoke, he did as the angel of the Lord had commanded him and took his wife into his home. (Mt 1:16, 18-24)
In many Christian traditions, today is the Feast of St. Joseph. Pope Francis has also declared this year to be the Year of St. Joseph as the Patron of the Universal Church. As I write this, the Pope is visiting Iraq on a mission of love and fraternity, a remarkable journey and something incredibly important for all people. Let us pray that we will be as trusting and courageous, putting aside, as St. Joseph did, our anxieties and hesitations to raise Christ in the world.
Today's Provision: Say a prayer to St. Joseph: Maybe you have a favorite one; by all means, pray that. If you don't, here is the prayer included at the end of Pope Francis' Apostolic Letter, Patris Corde (With a Father's Heart): "Hail, Guardian of the Redeemer, Spouse of the Blessed Virgin Mary. To you God entrusted his only Son; in you Mary placed her trust; with you Christ became man. Blessed Joseph, to us too, show yourself a father and guide us in the path of life. Obtain for us grace, mercy, and courage and defend us from every evil. Amen."
Saturday, March 20: "But, you, O LORD of hosts, O just Judge, searcher of mind and heart, let me witness the vengeance you take on them, for to you I have entrusted my cause!" (Jer 11:18-20)
There are around 60 uses of the word "vengeance" in the Bible, all but one of them in the Old Testament. And there are a few times — this passage from Jeremiah and Jonah's expectation of revenge on Nineveh, for example — the prophets look forward to God's vengeance. They are tired of being ignored and threatened and are eager to witness God's punishment. Contrast this with Moses earlier this week: "Let your blazing wrath die down; relent in punishing your people," and of course, with Jesus, "Father, forgive them for they know not what they do." We are reminded throughout Scripture that vengeance is the Lord's. What if our hearts were big enough to pray for mercy on those who have wronged us?
Today's Provision: Pray for those who mistreat you: Jesus says these words in Luke 6:28. This is very hard indeed. When I am hurt, I'm tempted to lash out, to exact revenge right then and there, ignoring the biblical admonition that vengeance belongs to God. But as a Christian, asking God to punish the offender is not enough. Jesus, the fulfillment of the law, calls on us not only to put aside our desire for revenge, but to pray for those who've hurt us. This takes radical awareness and discipline, but through prayer, we can heal ourselves and others. We've all heard stories of families and friends estranged political differences. Is there a hurt you harbor? Even if you have accepted that revenge is wrong, bitterness can still eat away at you. Offer forgiveness or at least pray for the other. Experience the healing of letting go in prayer.
---
We hope you enjoy "Come and See!" and we welcome your input. Please contact Elaine Ireland at
ehireland@loyola.edu
with questions, comments, and responses.
---
© 2009 - 2020, Elaine H. Ireland - Images@FaithClipart.com
---
Up to 6 weeks of "Come and See!" reflections are saved here.
The latest is always listed first.